TuneSleeve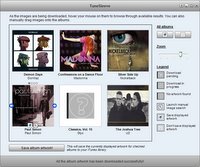 Looking for a quick and easy way to fill out this blank square in your iTunes library?
Want to make good use of those bright color pixels on your iPod screen?
Want to enjoy CoverFlow at its best on your brand new iPhone?
Feel like the CD jewel case inserts or the album listings you print with iTunes are boring without the album artwork?
If you answered yes to any of these questions, you have come to the right place!
TuneSleeve is a utility that downloads album art from Amazon for each album in your iTunes library (or in a specific playlist). You can choose which image is the best among all the images returned, and if there is no good match you can launch a search on Google Images in you browser then drag & drop the desired image on the album in TuneSleeve. Enhance your iTunes and iPod experience with album art!
Software Information
System Requirements
Version:
1.0.11

Windows 8/7/XP/Vista
Microsoft .NET Framework 2.0
Apple iTunes 4.9 and higher

License:
Free to try, $19.99 to buy
File Size:
629 KB
Screenshot :
View Screenshot
Rating :
My goals were:
Being able to work with albums, not individual songs. We're talking about album artwork after all, aren't we?
Being able to choose what artwork I want among all possible results found on the internet, because the CD cover for an original edition is not always the same as the 20th anniversary special edition.
In addition to automatic searching, being able to launch an external search in my browser and manually choose the artwork I want by dragging it from my browser to TuneSleeve.
Being able to download artwork for my entire library or a specific playlist.
Being able to exclude songs purchased from the iTunes Music Store, since they already come with good quality artwork.
Being able to exclude songs that already have album artwork, as I might already have spent some precious time manually finding and dragging album cover images for these songs.
Being able to replace existing artwork with the downloaded artwork or to add the downloaded artwork to the existing one, because the software might find a better quality album art than the one that is already there.
RELATED SOFTWARE DOWNLOADS FOR TUNESLEEVE