TUNEBITE Platinum
Looking for a converter that does everything? Say hello to Tunebite 10.
Legally record, convert and enjoy protected music, video and DVDs anywhere!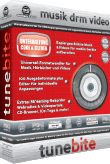 Tunebite is the best solution to remove copy protection from music, video, audio books and DVD & then convert it to one of 100 file formats. Since 2004, Tunebite has been mentioned and singled out for excellence in more computer trade publications than any other legal software solution that removes DRM copy protection. It legally removes the DRM copy protection from music & video, audio books by re-recording it at up to 54x the speed. With either the playback software or Tunebite, additional copyrighted music & audio book files can be copied by using the virtual CD-burner.
The #1 Solution for all Problems with File Formatting and Protected Media Files! Whether it is for music with copy protection or in the wrong format, for online videos or for movies and DVDs from online movie stores, Tunebite has always got the absolute best options for recording and converting file formats for your PC, or portable device. Tunebite Platinum can legally convert unprotected and protected music, audiobooks, videos and movies via the high-speed converter and/or the re-recording process for any audio or video profile.
Tunebite can read in DVDs directly or create a copy of protected DVDs for your archives via the re-recording process without sacrificing any quality, and gives you these files in the right format for any of your devices. Entertainment with Cloud Storage Thanks to Tunebite, you can use your smartphone or any internet-capable device to enjoy your media straight from the clouds. Clouds, among others, from Amazon, Telekom and Strato have been preconfigured. Media Management Tunebite completes your music files with ID3 tags, album covers and lyrics, and helps you organize your collect.
Software Information
System Requirements
Version:
10.2.20812.1200

Windows 8/7/XP/Vista
PC 1 GHz
512 MB RAM

File Size:
Full version: 59.0 MB
License:
Free to try, $39.90 to buy
Screenshot:
View Screenshot
Rating :
TUNEBITE Platinum 10 Main Features
The Best Solution for File-Formatting and Copy Protection Problems!
Since 2003, Audials Tunebite has been the best solution around for dealing with problems with media files. Whether it is music with copy protection or the incorrect file format, online videos or DVD from online videotheques, Tunebite always provides you with the best solutions for recording and converting files for PCs, smartphones, tablets, netbooks, game consoles and any other portable playback device.
The Universal Recorder Simply Records Anything
Remove Copy Protection from Movies Purchased Online.
With Tunebite Platinum, you will never have to miss out on the latest blockbuster from any online videotheque or Video on Demand service. Tunebite Platinum magically displays a recording button in your browser or stream player, which lets you begin recording with just the simple click of a mouse.
Edit or Archive DVDs for Your Tablets and Netbooks with built-in DVD Ripper
Tunebite end protection problems with a built-in DVD Ripper.
Tablets, such as the iPad, netbooks and other portable playback devices do not always have the capacity to play DVDs. Tunebite reads unprotected DVDs directly, or copies protected DVDs for your archives without sacrificing quality, and creates these files in the right playback file format for any playback device.
The Number 1 Tool in the World for Music Subscriptions
Tunebite automatically records music from subscriptions – without sacrificing quality. Afterwards, Tunebite saves these songs as new audio files as MP3s, WMA or any other audio format. With just a single click, Tunebite searches your PC and converts every protected music file it finds into an unprotected format.
Record Internet Videos in the Right File Format for Smartphones
Using the magic recording button that automatically appears next to videos and movies in any browser or stream player, Tunebite automatically records videos without sacrificing quality and in the original video size. The magic button works on both unprotected and protected videos and movies. Files are then subsequently saved in the right format for your playback device.
Recording Music from Social Radio Stations is All the Rage
The most popular social radio stations include Last.fm, Grooveshark and Spotify. Social Radio Stations let you create your own radio program, and thanks to Audials Tunebite you can record each song played in any desired file format as an individual song.
Download music from Internet sites as Audio streaming directly onto your PC
No matter how you listen to your music on your PC, Tunebite can automatically record as individual and labeled files. Tunebite can record any website and even audio streaming music services such as Simfy™, Spotify™ or on Facebook™.
Easy-to-use Universal Converter at an Incredibly Low Price
The Tunebite universal converter has the right solution for all of your devices and media. The integrated universal converter can read in the most important formats and creates an optimized output format for your playback device. No matter how you want to use the file: play it on your PC or prep it for your HD television. The Audials converter converts everything with just a simple click.
A Word about Technology
27 virtual sound cards enable high speed digital dubbing at 54 times the speed for legal re-recordings of copy protected songs. A virtual CD burner takes care of high-speed recordings for audiobooks, repeated audio recordings and partial recordings of movies in several steps to ensure the best-possible quality for re-recordings and converting DRM copy-protected files. Catch all that?
PerfectVideo is the Best Solution for HD Videos and Movies
With one-of-a-kind, brand new technology, Audials Tunebite ensures recording, copying and converting of videos and movies in HD without sacrificing quality via a combination of accessing graphic cards directly and accessing data on the network layer.

Tunebite Platinum Features - Version 8:

Tunebite Platinum lets you configure your recording speed to perfectly match your PC?s hardware and software capabilities. Copy-protected music and audio books can be recorded with ultra-high recording speed. Using batch operation, large volumes of music can be automatically recorded in digital quality.
Convert Protected M4V Files into Unprotected MP4 Video Clips
Tunebite Platinum is also available in a special version containing an MPEG4 encoder, allowing you to automatically record DRM copy-protected M4V video clips and save them as unprotected MP4 files.
Digital Pro Sound Management
Want to listen to other media during the recording process? No problem! Tunebite provides you with total listening freedom, even if your sound card doesn?t. And to ensure professional sound quality, Tunebite automatically configures recording levels and devices, and provides you with an Oscilloscope Monitor that indicates the optimum recording level.
Multiple-Speed-Converting
Tunebite Platinum lets you configure your recording speed to perfectly match your PCs hardware and software capabilities. Copy-protected music, videos and audio books can be converted with multiple recording speed.
Unparalleled Simplicity
Just tell Tunebite where your incoming media folders are. With the click of a button, Tunebite searches these folders for files that have not yet been processed and records them automatically.
Media Library Management
Tunebite also helps make new media ready for inclusion in your media library. The title, artist and album name for every file are automatically stored in ID3 tags. Files are saved as desired in various folders according to artist and/or album, making media easier to find. Normalization ensures media is recorded at the uniform volume level of the entire media collection.

Related Article:
Click here to see How to Remove Drm from WMV files?
M4P Converter Tutorials - Convert M4P to MP3, M4P to AAC, M4P to WMA
How to convert M4P files from Apple's iTunes store that are DRM protected to MP3.
How to convert DRM video clips like WMA, M4P, M4B, M4V, iTunes files?
RELATED SOFTWARE DOWNLOADS FOR TUNEBITE PLATINUM