Together Workflow Editor Professional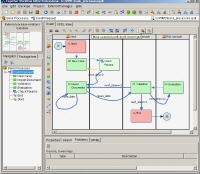 Together Workflow Editor Pro is the first graphical Java Workflow Editor fully implementing WfMC (Workflow Management Coalition) XPDL-Specifications (XML Process Definition Language)

Every WfMC compliant XPDL-File can be viewed, edited und saved. LDAP connections to MS Active Directory or OpenLDAP are support for input of process participant data. References between XPDL package/files are supported and resolved. Extensive logical validation beyond simple XML syntax checks is done automatically. Guided dialogs for all XPDL elements / attributes, customizable activity icons, freely definable XPDL copy/paste design pattern libraries and optional graph auto-layout support productive XPDL editing.




Software Information
System Requirements
Version:
Version 2.1-1

Windows 98/Me/2000/XP/2003/Vista
Disk Space Required: 100 MB
Memory Required: 256MB

Full Version Size:
28.00 MB
License:
Free to try, $699.00 to buy
Screenshot:
View Screenshot
Rating :

Together Workflow Editor Professional Edition provides a lot of additional features and configuration options compared to the publicly available Community Edition by using a powerfull plugin architecture:
Additional graph actions to select all transitions between the selected activities
Transient XPDL package references
WfMOpen workflow semantics / validation support
User-defined configurations support
Dynamic configuration switching at runtime
Configurable Workflow design patterns copy/paste pool support
Customizable activity Icons using native XPDL attributes
Together Workflow Server / Enhydra Shark semantics /validation
Save/Load graphical layout of processes in XPDL extended attributes
LDAP support to extract participants data
Wf-XML support
Undo/Redo support for every editor action
View referring elements for every XPDL element
Modeless editing dialogs
Navigation history with backward/forward navigation
Revert button in every edit dialog
Propagation of element selections to all panels
Direct navigation to referrenced elements
Expression editing support including selection of process variables
Graph rotation (horizontal or vertical swin lanes)
Expression based participants in the graph with full editing support
XPDL element view including syntax highlighting
Problem highlighting and extended navigation tree
On-line documentation including XPDL explainations and configuration
90+ pages PDF documentation including a step by step guide
Graph overview with navigation possibilites
Possibility to customize XPDL element's property panels
View relations between main XPDL package and its external packages
In-line property panels for editing XPDL
Info bar for basic information about the selected object
Save XPDL with XPDL namespace prefix
Switching language in the GUI
Optionally display transition conditions in the graph
Define your own custom activity, process or any other XPDL element icons, property panels...
Easily add your own special actions like e.g. for automatic graph layouting, saving XPDL into DB, ...
Specify single or multi in/out connections per the activity type (including custom activity types)
API documentation for extension programming
...and a lot more that is needed in professional XPDL modelling