TimeUp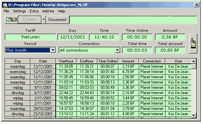 TimeUp is an internet online timer for windows that keeps track of the time spent on the Internet. An icon in the system tray recognizes all internet connections on analogue and ISDN modems. It calculates your phone bill, gives you an overview per day or month in a table or even in a graph. If you work with different users on one system, TimeUp can give you an overview per user. TimeUp has a small window that can stay on top of your desktop and show you the time or cost of your connection. TimeUp can convert your costs to Euro. You can download the tariffs and holidays for your country from our website and load them into TimeUp, or make your own tariffs and holidays with an easy to use wizard.




Software Information
System Requirements
Version:
5.0.0.8

Windows 95/98/ME/NT/2000/XP and Vista
Memory:256MB minimum
CPU:Pentium II 450 MHz or better

File Size:
4.23 MB
License:
Free to try, $19.00 to buy
Screenshot :
View Screenshot
Rating :
TimeUp 5.00.8 Product Features:
Total values
Many Internet providers and phone companies nowadays work with a flat monthly rate for a limited amount of hours connection time. If you spent more hours online then allowed, you have to pay extra. TimeUp 4.7 can show the total time online and the total amount for 'This month', 'This week', 'Today' or for a period starting on a particular day of the month. These total values can be shown on the main screen and on the mini-screen.
Mini-screen
The small window that stays always-on-top can now show more then one item. You could choose for example to show the total connection time for this month and the price of the current connection at the same time. The mini-screen also 'sticks' to the side of the screen.
languages
You can now select English, French, Dutch, Italian, Spannish, German AND Norwegian language in the options.
Help file
The help file is now available in English, French and Dutch
Limit Warning
When you reach a certain amount of time online or spent a certain amount of money on connection time, TimeUp can warn you and, if you want to, disconnect from the Internet.
Time synchronizer
Synchronize your system clock. This can be done manually or automatically at the start of every connection.
Add-ins
TimeUp has an Add-in menu. New add-ins for TimeUp can be downloaded from our website. Check http://www.timeupsoft.com/ regulary for new Add-ins.
Tariff editor
A new and improved tariff- and holiday editor.
TimeUp can now "simulate" a tariff file. Enter a start- and end hour and let TimeUp tell you what it will cost you.
Tariffs warning
If the tariffs in your country change, TimeUp can give you a warning so you can download the updated tariff file.
Bind Tariffs
Use different Tariff Files for different ISP's or phone companies. If you bind a Tariff File to a DUN connection, this tariff file will be loaded every time you use this connection.
Modem
Use the "Chronometer" to decide the amount of seconds your modem needs to connect.
Search
From the icon in the system tray, search the web on one of the major search engines.
Chat
Chat with other TimeUp users.