ThreatSentry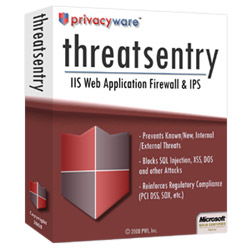 IIS Web Application Firewall & Host Intrusion Prevention Software for Windows Web Servers.
The Ultimate IIS Web Application Firewall and Host Intrusion Prevention solution!
Don't sweat unaddressed vulnerabilities, insider misuse, or new types of attacks. ThreatSentry combines a state-of-the-art Web Application Firewall and advanced behavioral components to block any activity falling outside of trusted parameters. ThreatSentry delivers enterprise-grade, multi-layered protection and compliance (i.e. PCI DSS) for Microsoft® IIS (5/6/7) at a small-business price!
Implemented as an IIS ISAPI extension and Snap-in to the Microsoft Management Console (MMC), ThreatSentry is exceptionally easy to use and designed to protect network weak points created by lapses in patch management, configuration errors, and the use of new and progressive attack techniques. ThreatSentry protects even un-patched Microsoft Web servers and delivers a vital proactive layer of defense for your web environment and applications.





Software Information
System Requirements
Version:
4.7

Windows Server 2000, 2003, 2008 (R2) with IIS 5.0, 6.0, 7.0/7.5
Intel processor (>700 MHz)
512 MB RAM

File Size:
12.80 MB
License:
Free to Try, $649.00 USD
Screenshot:
View Screenshot
Rating :
ThreatSentry's Key Features:
IIS Web Application Firewall and AI-based Behavioral Intrusion Prevention components protect IIS from known and new threats.
Neural threat prevention system protects Web Servers known and unknown threats.
Defends Microsoft IIS Web servers, Windows operating systems, databases and popular Web application platforms like ASP.NET, ColdFusion, Java/JSP/J2EE, Perl, PHP, Python, Ruby, Ajax and JavaScript.
Unparalleled Affordability and Ease-of-Use: ThreatSentry is exceptionally easy to use and affordably priced for enterprises of any size.
Logging, Reporting and Audit Features: Review, sort, manage or export Security Alerts and Training Events. Track and audit reclassified events.
Centralized Network Management: ThreatSentry features a central console for multi-server management.
Security Alert Notification: ThreatSentry Security Alerts can be transmitted via email, text or cellular phone.
Compatible with IIS Lockdown, URLScan, and other third party filters and extensions.
Supports FrontPage publishing, Outlook Web Access (OWA), and other Microsoft platforms running on the IIS Web server.
Nominal server performance impact
Fully integrated Firewall: Blocks all network ports for IPs listed in the Blocked List.
ThreatSentry Supports - Windows Server 2000/2003/2008 and IIS 5.0/6.0/7.0
ThreatSentry's Key Benefits:
Unsurpassed Protection from Known/New, Internal/External Threats – Advanced system/behavior profiling and comparative analysis engine enables ThreatSentry to extend the intrusion detection and prevention capabilities of conventional pattern matching, rules, and policy-based systems. ThreatSentry supports single or multiple server environments and provides protection from an array of documented exploitive techniques including Directory Traversal, Cross-site scripting, Parameter Manipulation, Buffer Overflow, Denial of Service, SQL Injection, Parser Evasion, High-bit Shellcode, Printer Protocol, and Remote Data Services, but also stops any unusual activity falling outside acceptable patterns of use.
Breakthrough Combination of Advanced Technologies – ThreatSentry is pre-configured with a knowledgebase of known exploitive techniques and attack characteristics. The knowledgebase is complemented by a behavioral engine that continuously learns typical system activity to establish a dynamic baseline. Each server connection is compared against the knowledgebase and system baseline to identify and take action against any activity falling outside trusted parameters. ThreatSentry's intrusion prevention capabilities progressively improve as the baseline evolves automatically or based on input from the system administrator.
Extensive Administrative Control – The ThreatSentry management console provides administrators ultra-granular control over configuration settings, trusted and untrusted event management, rule and signature definition, blocked IPs, alert notification and the sensitivity level of behavioral engine.
Unparalleled Affordability and Ease-of-Use – Implemented as an IIS ISAPI extension and Snap-in in to the Microsoft Management Console (MMC), ThreatSentry is exceptionally easy to use and affordably priced for enterprises of any size.
RELATED SOFTWARE DOWNLOADS FOR ThreatSentry