TextMaster Data Editor Standard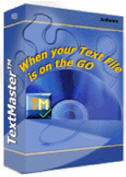 TextMaster Data Editor Standard is a software tool for rapid analyzes and processing of fixed length or delimited text files.
Are your large text files corrupt through mistaken input or other forms of user or software error? Do you want to quickly identify these errors in order to repair them or eliminate the record or records in question? Have you ever wanted to run SQL query directly on your fixed length or delimited text file but haven't been able to find software to do that?
TextMaster Data Editor Standard is your route to quickly and easily resolving these problems! You don't need to know SQL language in order to analyze length of each line, validate data, slice and dice your text the way you want it, check records, export them and even email them to your client. Its Features include: checking each record for line length, relevant file dates (created, last modified and last accessed) and provides you with the relevant statistics.
The results of the processing can be logged into an unlimited number of user definable logs and/or stored in profiles for future comparison with other files of unknown origin. An input file can be sliced and diced within minutes depending upon the user's defined criteria.




Software Information
System Requirements
Version:
2.5

Windows 8/7/XP/Vista
.NET Framework 2.0
Windows Installer 3.1 or later
128 MB RAM

License:
Free to try, $99.00 to buy
File Size:
20.1 MB
Rating :
Key Features of TextMaster Data Editor Standard:
Size Check

Check line length
Process fixed and delimited text files
Display First, Mid and Last line length
Display number of lines per record
Display file length and relevant dates
Estimate completion time

Text Export

Export sequentially
Export Random number of lines
Export Random percentage of lines
Only lines of specified length
Only lines different than specified length
Append or overwrite a specified file

Logging

File processed with all info associated to the file
Save crucial info about file's processed: date, time, size...
Provide manual entries / adjustments
Unlimited number of logs
Unlimited number of log entries

Profiling

Save crucial info about file for future comparison
Provide manual entries / adjustments
Unlimited number of profiles
Unlimited number of profile entries, per profile
Check file processed against all entries in a selected profile

SQL Select

Select all or only specified fields
Skip a selected number of lines
Filter lines based on field values
Select fields composed out of other fields
Rich set of text manipulation functions such as: Trim, ToUpper, ToLower, etc.
Supports aggregates (count, min, max and sum)

SQL Update

Update any or all fields
Skip a selected number of lines
Filter lines based on field values
Set the field value to the combination of any other fields value/s
Rich set of text manipulation functions such as: Trim, ToUpper, ToLower, etc.

SQL Insert

Insert a line into a table by specifying field values (single line entry)
Utilizing a 'select statement' determine structure, number of lines and criteria to copy from one file into another one

SQL Delete

Delete all or a specified number of lines
Preserve and/or delete a selected number of lines
Delete lines based on specific field values

Remove duplicated lines from the file - TMDeDup

Specify one or more fields as criteria
Specify part(s) of the field(s) as criteria
Limit de duplication to the portion of the file

Change file structure - TMKeep

Add field
Remove fields
Concatenate fields
Create new field from field(s) or part of the field(s)
Change field order
Filter rows based on field(s) or part of the field(s) value

Split file into several files based on field(s) values
Horizontal Split (TMHSplit)

Single field can be used as splitting criteria
Multiple fields can be used as splitting criteria
Combination of field(s) and field(s) segments can be used as splitting criteria

Join several lines into single line - Vertical Join (TMVJoin)

Convert entire file into single line
Convert groups of lines into several line (one line per group)
Group indicator (marker) can be at the beginning or at the end of the group
Group indicator (marker) can be at the beginning, end or part of the line
RELATED SOFTWARE DOWNLOADS FOR TEXTMASTER DATA EDITOR STANDARD