T.ED Professional Terrain Editor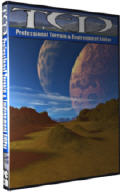 T.ED Professional Terrain Editor is a dedicated terrain editor tool to allow the creation of small to large mesh landscapes, either as a series of blocks, or as a single terrain.
T.ED Professional Terrain Editor allows for superb blended textures either by using vertex alpha or by rendering a 'Supertexture' for each terrain block. The software and exports also take into account the problems of using entity/texture alpha with vertex alpha, and has features designed in to help eliminate those dreaded problems.
T.Ed is a complete solution for making huge outdoor worlds: The technique behind designing and using terrain objects can be a minefield of choices, as there are so many different ways of doing it! T.Ed is designed primarily for games programmers and 3D artists to make those choices easier. There are 2 main categories regarding terrains in games, 'Mesh' and 'Dynamic/LOD'. T.Ed can help in the development of both!
Through an easy to use and learn interface, featuring mouse look and game walk controls, you will be walking around your virtual lanscape in minutes.




Software Information
System Requirements
Version:
6.7

Windows XP/Vista/2000/98
128 MB RAM

License:
Free to try, $36.69 to buy
File Size:
12.6 MB
Screenshot:
View Screenshot
Rating :
Key Features of T.ED Professional Terrain Editor:
Easy to use windows like interface, with 'mouse look' and 'game walk' controls
Versitile editing tools that even alow you to create overhangs and vertical walls!
New V4 features prop management and placement Create complete worlds with trees and buildings, then give them custom properties!
New V2 features lots of new tools including autotexture by height & slope!
Uses an alpha-limit blending technique to stop vertex alpha Z-Order problems
Ability to edit large mesh terrains in realtime up to 1024x1024*.
Can have 1000s of simulated textures by using vertex colour combined with 6 pre-loaded textures
Create great looking, realistic blended landscapes.
Lightmapper to shadow the landscape
Supertexture Renderer For those who dont want or cannot use vertex alpha, you can now 'bake' the vertex layers and lightmap to one large texture!
Useful tools including paint height, auto quad-matching and tiling function to make 'infinite' terrains.
Configurable (and saveable) environment simulation for fog, water, sunlight etc.
B3D and DirectX .X for easy insertion into your games & other programs.
Key Functions of T.ED Professional Terrain Editor:
T.Eds Own Environment / prop output file (.epr)Complete with open file spec & source. Load and edit properties for 3D meshes (props) like houses etc. Even give them custom properties and scripts.
Height/color/alpha Maps
DirectX .X mesh(s)with rendered supertexture, highly compatable and easy to parse/convert ascii. There is also option to store vertex alpha in the .X.
Blitz3D .B3D mesh(s) with vertex alpha and optimized layering on either surfaces, or child meshes.
Darkbasic .DBO Option for both a supertexture rendered terrain or one with vertex alpha.
Dynamic Terrain Kit Export (by using the supertexture and heightmap exports) T.Ed can give a dynamic terrain the blended look.
RELATED SOFTWARE DOWNLOADS FOR T.ED PROFESSIONAL TERRAIN EDITOR