SyncMate Expert Edition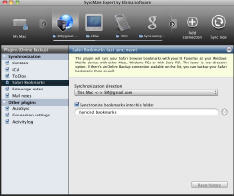 SyncMate Expert Edition synchronizes all your important information and keep your notes, documents, files and contacts well-organized.
SyncMate Expert Edition can easily sync your Mac with Windows Mobile, USB flash drives, PSP, other Macs or Windows computers, Nokia S40 phones, Google accounts and backup your data online! It allows you to sync your contacts and calendars with many devices simultaneously and even with your Google account (in 2 ways, unlike iSync).
SyncMate Expert Edition is for those, who want to gain more possibilities of this powerful synchronization software.
iPhoto synchronization. Keep your favorite images with you! Show them to your colleagues, show them to your friend in France, and bring them home. All your photos, pictures and images are easily transferred from your Mac to your Windows Mobile phone.
SMS manager. Organize, create and delete your text messages right on your Mac! Full-screen view and keyboard will help you do it lots quicker. Type the new message on your Mac, save it to the Pocket PC and it is ready to be sent.
Bookmarks synchronization. All your favorite web-sites, web-pages, online games, quote databases will never get lost. SyncMate will help you synchronize bookmarks to your Win Mobile phone, Online Backup Storage, other Mac.
iTunes synchronization. Oh, that music. Your favorite music. The music you can listen anytime, anywhere. Take it with you! Synchronize all the music files you have to your PDA, so you can enjoy your beloved tunes even if you are far away from your Mac.




Software Information
System Requirements
Version:
2.x

Mac OS X 10.4 or later
128 MB RAM

License:
Free to try, $39.95 to buy
Download Size:
9.87 MB
Screenshot :
View Screenshot
Rating :
Key Features of SyncMate Expert Edition:
Install Applications easily. SyncMate makes installing any applications to your PDA quick and simple (CAB).
Store your stuff online. Store your Contacts, Calendar and more (Expert Edition) online.
Folders synchronization. Sync folders with different files in Mac and supported devices. Real-time sync is available for USB flash drive, several Macs, Sony PSP, Windows PC.
SMS management. View, delete, create, send, search and export messages on your Mac (Expert Ed.).
Multitasking Now SyncMate provides you with the possibility to synchronize many devices simultaneously. You can sync your Mac with another Mac or PC, your Windows Mobile device, Nokia series 40 phone, PSP, USB Drive or your Google account. You can do that all at once and have an instant access to synchronized devices from the main toolbar!
Calendars synchronization Synchronize your iCal calendars and even your Google calendars to numerous devices at a time. ToDo's, Notes and Stickies synchronization, that will help you never forget even a small event of yours, is available in Expert edition.
Contacts synchronization Keep your address books organized at all your devices by just syncing them with friendly SyncMate. Synchronize your Google Contacts, too!
SMS reader Read all your text messages not even touching your mobile device!
Device info Analyze detailed information of the Windows Mobile device (battery state or memory usage).
Key Functions of SyncMate Expert Edition:
Contacts Synchronization (Entourage!)
iCal Synchronization (Entourage!)
iPhoto Synchronization
iTunes Synchronization
Safari Bookmarks
Firefox Bookmarks
Folders Synchronization
Time Synchronization
Device Info Plugin
SMS Reader Plugin
SMS Manager Plugin
Internet Sharing
Backup
Actions Log Plugin
Applications List Plugin
Calls history plugin
Mail plugin
To Do's plugin
Mount your device as additional disk
Mail notes synchronization
Entourage notes synchronization
Stickies synchronization
Autosync
200 MB Online backup storage space
1000 years Online backup storage usage period
RELATED SOFTWARE DOWNLOADS FOR SYNCMATE EXPERT EDITION