Swift Elite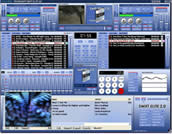 Swift Elite is the Complete Entertainment Solution, the Third Edition of the first All-in-One Video, Audio, Karaoke, and Lighting Solution.

Host any VJ, DJ, or KJ show at the click of a mouse pointer. Bring the Power of Video, VCD, DVD, CD+G, CD-Audio, Karaoke Media Files (Audio+G), Audio files, and Video Sources (Cameras, DV) into one awesome program.

Automate your show or take full control - enable your Auto Crossfade, Next Singer display, Queue mode, and Playlist presets and let it go. You will awe your audience with a video or karaoke show that will knock their socks off!!

Swift Elite includes all importing tools, CD+G Disc playback and ripping tools, export songbook creator, very cool transitions, slideshow, next singer features, and many many more...

Software Information
System Requirements
Version:
3.0

Windows XP SP2 (most stable)
Fast CPU (i.e. P4-1.8 GHz or higher).
A 3D Accelerated Card
Atleast 64 MB of Video Memory
Around 256 MB RAM
DirectX 9.0c
CD+G Compatible drive (or Non-Deinterleave capable)

File Size:
32.3 MB
License:
Free to try, $299.95 to buy
Screenshot:
View Screenshot
Rating :
Swift Elite 3 Features:
Remote Request Tool
Auto Gain Control (Maintains 0dB to 4dB)
Beautiful Video and Audio Crossfading
34 Unique Video Transitions
Master Pitch and Tempo
Large Preview Monitors (You see what's playing)
Key/Tempo Settings Save in Playlist Files
Add Video or Audio Sources like Tracks
Play Direct CD+G Discs with Deinterleave
High Resolution Images Behind CDG Graphics
CDG Background Image Rotation
Change CDG Background LIVE!
Independent Picture Slideshow
Video Montage (BlueScreening/ChromaKey)
MIDI Controller Support
Numark DMC-1 v2 Controller!
Hercules DJ Console!
ATI Remote Wonder!
FreeFrame Plugins Support
Customize Any Function to a KEY!
BPM Analysis of MP3, MP3+G , and Videos
8 Cue Points Per Deck (8 Intro/1 Outro)
Visualizations
KAR files with Lyrics
Mini Web Broadcast
Playlist Scheduler
Dynamic Lighting Utilizing S.C.R.A.M.
DMX Ready (requires SCRAMDMX Modules)
DMX Active Scenes (Multi Universe)
DMX Effects Editor
Song Collection:
Song Book Creator RTF Exporter
Text File and Playlist Exporter
Song Collection Database

Playlist and Hard-drive media manager
Songs have ID to find easier

Print SongBook

(By Collection, SongNames, Artist)

Import Routines (refer to "Conversion Utils/Tools")
Conversion Utils/Tools:

The Elite Conversion Tools are now available in release, you can purchase the tools seperately. But the Swift Elite activation will also activate the Elite Conversion Tools, thus if you have purchased Swift Elite there is no need to purchase Elite Conversion Tools.
MP3->WAV
WAV->MP3
MP3+G ->WAV+G
MP3+G ->BIN
MP3+G ->KMF
KMF->MP3+G
KMF->BIN
BIN->RAW
BIN->MP3+G
BIN->KMF
MP3+G 's to Hard-drive
VCD to Hard-drive
Deinterleave in Elite Conversion Tools
ID3 Writing with MP3 Conversions
TextDB access and Album/Artist Fields
Drive Capabilities Dialog (Used to assess the drives' CD+G capability)
Song Collection Import Routines

MP3+G Import
VCD Import
Import CDDA (MP3)
Basic Import (Use Elite Conversion Tools for extended options)
Playlist Columns Explained:
1. - Media Name
2. - Played Count
3. - Pitch Setting
4. - Tempo Setting
5. - Time Entered
6. - Time Played
7. - Length of Media
When a song is entered the Time Entered is updated. Played count is incremented by one.
When a song is played the Time Played is modified,at the same time the Media Length is updated.
(Playlist supports unicode, song collection supports but does not display unicode)

Known Issues:
Do not attempt to play 2 CDGA (CDG Disc) Tracks in both Decks from the same disc
Now Using Elecard Decoder

DVD can now be played in all decks at the same time
But same DVD drive accessed at same time will stutter (hardware issue)
Requires more than one DVD drive to fade
If issues with playback occur after installing Elecard, be sure to unregister the Elecard Components using the Component Manager (be sure not to unregister the Elecard MPEG2 Decoder and Moonlight Odio Decoder)