Surfstats Website Traffic Analyzer
Analyzes log files and then creates html based web activity and conversion tracking reports.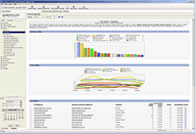 SurfStats Website Traffic Analyzer analyzes log files and then generates Website Activity and Conversion Tracking reports from log files. Reports can be generated in various languages with output to screen, file directories, ftp or email. It supports most common log file formats with automatic log file format and compressed format detection.
It comes with all the necessary tools designed to automate and simplify log file analyzing like a Fast Reporting mode, an Interactive Reporting mode, a Report Viewer and Printer, a FTP Client, a Task Scheduler, DNS Lookup, Report E-mailer, Filter Control Panel for dynamic filtering on dates, visitors, referrers and files, a File Viewer for displaying, searching and printing of log files, a Report Theme Editor to change logos, backgrounds, fonts and colors on reports, a search engine ranking tool and a Language Editor to modify language phrases on reports.
Surfstats Website Traffic Analyzer is the ideal solution for users and businesses who want to analyze the activity generated by their own web sites. The licensed version of SurfStats Standard Edition allows web site traffic log analysis of up to ten (10) web sites on one computer system.





Software Information
System Requirements
Version:
2011.1.1

Windows 7,2000,XP,2003,Vista
Pentium II CPU
64 MB RAM

File Size:
32.6 MB
License:
Free to try, $95.00 to buy
Screenshot:
View Screenshot
Rating :
Key Features of SurfStats Log Analyzer Standard Edition:
Analyzes up to 10 web sites (site profiles) on one system
Analyzes a variety of log formats including IIS and Apache.
Powerful filters to include or exclude Visitors, Referrers, File Types and Dates
Generates output to screen, file folder, ftp or email
Generates reports to a variety of formats including Html, PDF, Excel and MS Word.
Professional looking reports featuring 3D Graphs and Tables.
Accurate Search Engine Spider Identification.
Built-in email and FTP client.
Scheduled report generation.
And many more...
SurfStats Log Analyzer Standard Edition can generate more than 50 reports which provides all the web stats about your site's visitors and the content they were interested in. The Standard Edition can generate the following reports:
Site Activity. Activity in terms of hits, page views, client sessions and bandwidth over a period of time.
Watch Activity. Earmark certain web pages and see how many times they were visited. Note that this option is not yet available in the Standard Edition.
Client Activity. See what IP Addresses and Domains visitors come from, countries, organizations, regions and authenticated users.
File Activity. See which files and pages are downloaded the most and the least. Top entry and exit pages, if your site was bookmarked and get detail on server attacks.
Advertisements. Track ads viewed and clicked.
Browsers and Browser Capabilities. See what browsers are used and their capabilities.
Referers. Who sent traffic to your web site, what keywords were used at Search Engines etc.
Errors. What errors happened on your site, what requests caused the errors, also server errors.