SQL Task Manager 2007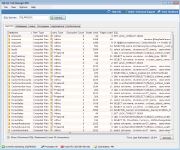 SQL Task Manager is the feature-rich diagnostic tool for instant visibility into what's going on with your SQL Servers. Who's connected and what T-SQL is being run? Maybe a long-running query or connection needs to be stopped.

Quickly identify how and where server resources are being consumed, how many users are connected to a database and what queries are running. This tool is suitable for all members of your SQL Server team!





Software Information
System Requirements
Version:
1.0

Windows 2000/2003/XP/Vista
Intel Pentium II 200Mhz or faster
64 MB RAM
Microsoft SQL Server 2005 and 2000

License:
Free to try, $395.00 to buy
File Size:
11.2 MB
Screenshot :
View Screenshot
Rating :

Key Features of SQL Task Manager:

Application Monitoring

The Applications tab on SQL Task Manager displays all the applications currently running commands against the server, as well as the command being run. You can order the view in the Applications tab by either Application Name or Command and choose to end any tasks that you no longer want running. Use this tab to instantly view how many applications are putting a load on the server and end those that are no longer required in order free up resources for other applications.

Process Monitoring

See in seconds which processes are consuming the most resources on your server with the Processes tab. You can view all currently running processes, or view just system or just user processes. With this tab you can identify which system processes or NT users are consuming the most I/O, CPU and memory on the server and order the view by process name, most or least of CPU, I/O or memory. You can also end any processes which are causing server problems by using up too much resource.

Database Monitoring

With the Databases tab you will see a view of all the databases on the server which have users connected to them. If a database has no connections, it will not be displayed, allowing you to focus in on the databases demanding the most resources from the server. Use this tab to see the number of connections to each database and how much CPU, physical I/O and memory each one is consuming. You can also see how many transactions remain open on all databases and have the option of ending all connections to any database if you need to stop the server or perform maintenance operations.

Query Monitoring

Find out which SQL statements currently being run on your server are using the most resources and see how many times each query or stored procedure has been executed. You can see all the statements run against every database in use, and sort the view by database, plan type, query type, number of times the T-SQL has been executed, and even by how many bytes and pages that query has consumed. This makes it easy to spot troublesome T-SQL code and find queries that consume most resources and may be badly written.

User Monitoring

Instantly see which users have a connection to your server. This tab will show a list of all connected users, the date and time when they last ran a query against a database on the server and also how long since they were active. You will immediately see who is connected to your databases and whether or not you can stop the server or take databases offline if users are no longer active but just have open connections.

Performance Monitoring

For an instant and graphical view of how much server resource is being consumed by a SQL Server on your network take a look at the Performance tab. You will see how much network traffic is passing to and from the SQL Server, how many packet errors have occurred on SQL Server connections and how much disk activity is caused by SQL Server reading and writing to disk. Use this tab to monitor a server as part of your performance tuning plan so you can see where CPU, disk I/O and memory is in need of upgrade.




RELATED SOFTWARE DOWNLOADS FOR SQL TASK MANAGER 2007