SQL Defrag Studio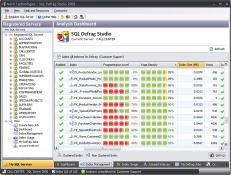 SQL Defrag Studio is a index defragmentation software to defrag SQL server indexes, and put your indexes back in order so that your queries will run quickly again. It will speed up a slow SQL Server and deliver impressive performance results to keep your servers fast and your users happy!
During normal database usage, inserts, updates and deletes will put your indexes out of order, slowing down performance. When this happens, you need to defrag your indexes.
SQL Defrag Studio is the perfect solution to this problem. SQL Defrag Studio makes fragmentation easy to understand with a simple interface and easy-to-follow recommendations for which indexes are in a bad state.
Simply run SQL Defrag Studio to identify which indexes are fragmented and then defrag only where it's needed. Once SQL Defrag Studio has put your indexes back in order, your queries will run quickly again.




Software Information
System Requirements
Version:
2009

Windows 2000/XP/2003/Vista
SQL Server 2005/2008/2000
.NET Framework 2.0+
screen resolution 1024 x 768

License:
Free to try, $495.00 to buy
Download Size:
14.0 MB
Screenshot :
View Screenshot
Rating :
Key Features of SQL Defrag Studio:
Color-coded display quickly shows index health
Don't waste valuable time hunting for indexes which don't need tuning. SQL Defrag Studio analyzes your indexes and uses color-coding to quickly show you where fragmentation exists. Go straight to the root of your performance problems and rapidly correct the indexes that are slowing your servers down.
Update statistics and recompile procs for a super fast server
It's not enough to just defrag your indexes. Updating statistics and recompiling your stored procedures are the last two steps to a super fast server and help SQL Server's Query Optimizer return results at the best possible speed. Use SQL Defrag Studio to do this automatically so you never forget to complete the whole process.
Flexible reporting - save results to Excel, CSV or XML
Monitoring index usage and fragmentation over time help you plan for the future growth of your servers. Save before and after results of a defrag job and keep a record of the performance benefits you've delivered to your enterprise. A really useful tool for those DBAs on performance related bonuses.
Easy to use, no learning curve and no training required
SQL Defrag Studio is so easy to use that you won't need to pay any extra costs for support or training. So no annual renewal costs or added extras to your budget each year. We think it's so easy that you won't want to share the secret of a fast server with your colleagues. You'll want to take all the credit for quickly and simply keeping your servers in tip top condition. All without having to do very much at all!
Support for SQL Server 2000, 2005 and 2008!
Don't worry which version of SQL Server you are currently using, SQL Defrag Studio supports all versions from SQL Server 2000 onwards. So whether you run just one version, a combination, or are thinking of upgrading, SQL Defrag Studio will work for you!
Enterprise support for unlimited SQL Servers. Saves login details to save you retyping each time you connect.
New and improved user interface – this good-looking tool is now even easier to use.
Color-coded graphical view so you can quickly find fragmented hot spots and target these first.
The Index Usage Stats tab quickly shows color-coded index read and write usage for each table so you can quickly find activity hot spots in your databases.
Quickly find unused indexes so they can be dropped and replaced by indexes on columns that make data retrieval faster.
Designed to support tables with over 3 billion rows (should you have one this big!).
Identify disabled indexes and re-enable them quickly and cleanly to make indexes and underlying tables operational again.
Support for XML, Full Text and Filtered indexes, and indexes on geospatial and geometery columns.
The database status shows you which operations can be performed (Analyze and/or Defrag), when a database is in a state other then online eg offline, read-only or single user mode.
Key Benefits of SQL Defrag Studio:
Analyze fragmentation and defrag indexes within minutes
SQL Defrag Studio analyzes the indexes on your SQL Server and shows you fragmentation levels. SQL Defrag Studio's recommendations show you which indexes you need to defrag. Then you can sit back and relax while SQL Defrag Studio puts your indexes back in order.
Save time and man hours: no more manual scripts to write
It's time-consuming work writing scripts to analyze and defrag your databases. SQL Defrag Studio brings the whole process into one tool to save you time and means you won't have to write and run scripts. Keep it simple with SQL Defrag Studio's easy interface.
Faster SQL Servers mean happy users, customers and managers
Being responsible for your company's databases means you're the first to be called when the server grinds to a halt. Lots of calls from frustrated users or an unhappy boss means extra stress for you. Regularly use SQL Defrag Studio to keep fragmentation away - and that phone that won't stop ringing.
Save money by postponing that hardware upgrade
It's a common mistake to think that a slow SQL Server can be moved to faster hardware to solve the performance lag caused by fragmented indexes. Not true, it just takes the fragmented indexes with it. Before you tell your boss you need to order some costly hardware, use SQL Defrag Studio to remove the fragmentation and save your company money.
Schedule out-of-hours defrag jobs for consistent performance
Defragmenting is a disk intensive job, stealing resources from the server while indexes are re-ordered. Your users won't be happy, so you need to defrag when they're not connected. Don't work overtime or give up your precious weekends to be in the office to defrag your databases. SQL Defrag Studio comes with an automatic scheduler so you can set defrag jobs to run when server usage is at its lowest.
RELATED SOFTWARE DOWNLOADS FOR SQL DEFRAG STUDIO