SpyXie UnderNetwork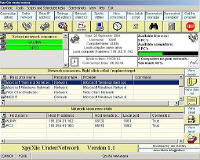 The purpose of this application is to allow administrators to have supervisory control over all the desktops within their domain, providing them with very powerful forensic tools to detect and monitor unauthorized and illegal behavior and to gather the electronic evidence needed for disciplinary (or even criminal) proceedings. They can also carry out a very wide variety of administrative functions as well as be able to monitor and trap application and user errors and provide proactive corrections in real-time.

SpyXie is a remote computer monitoring and administration software. SpyXie monitors all computers from LAN from a single administrator's PC. SpyXie give you the total control of all computers from your LAN. From a single administrator's PC you could see, monitor and control any activity from remote computers. With SpyXie you can easily connect with any remote computer from your LAN. All you need is to have installed SpyXie Client in remote computers.

Also this software is for real time monitoring and continuous tracking of users' activities on network connected computers. With SpyXie the administrator could view remotely in real time screens of the remote computers, typed keystrokes, visited Internet sites history, used applications. Any activity from a LAN computer is recorded and could be viewed.




Software Information
System Requirements
File Size:
5.16 MB

Windows XP, Me, 2000, 98, 95
DirectX compatible computer required.
CPU: Pentium 133 or faster required.
Graphics Card: 2 MB PCI Graphics card required

Version:
1.1
License:
Free to try, $200.00 to buy
Screenshot :
View Screenshot
Rating :
General features:
Capture screenshots from remote computer. Allows you to capture and view screenshots from remote computer. You could set the quality of received images, edit captured images, save this screenshots, view on a full screen mode or administer saved images.
Remote commands allow you to send commands to the remote computer. You could change the resolution, shut down, reboot, logoff, open control panel items, open CD Door, run application etc. on remote computer. Many other commands are available (over 40).
File and folder operations allow you to open, delete, and download / upload files from / on remote computer. You could do this even if these files aren't stored on a shared folder! The interface is like in Windows Explorer. SpyXie will show you all the files and folders regardless files and folder shared options on remote computer. So even if a file or folder are not shared on remote computers from here you could see it's content, property, you could delete it or you could download it on your computer.
Windows operations. Allows user to close, maximize, minimize, restore or change caption on any active window from remote computer.
Monitoring reports allows user to view the complete record of activity on remote computers, with keystrokes, applications and windows activity. These reports are stored by day so you could open any report to open or to delete it from remote computer. SpyXie completely records your employees or child's PC and Internet activity.
Remote system info give many other information about remote computer, like OS, file extensions, running process, special folders, etc.
Chat and instant messaging allows administrator to send messages to remote computer and to initiate a chat session with the user of remote computer!
Remote computer network statistics and information.

SpyXie UnderNetwork Advantages:
Easy to use, easy to install, easy to understand
Easy to follow interface.
Installation process requires no thinking on the users part
Low initial outlay
Perpetual licence rather than annual fee.
Cost efficiency: You have many different applications and modules but you pay just for one!
Compatibility with any version of Windows later then 3.1 (including Winows XP)
Great number of features, all in a single program. You don't need to buy, install and launch other programs. With SpyXie you must buy, install and run just one program with all the features included.
Minimum system requirements (Intel Pentium II at 266Mhz and 32 Mb RAM)
Flexible licence system. Could acquired SpyXie from little company with just 2 computers or more in their network to large company with more than 100 computers in their network.