Spreadsheet Presenter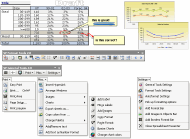 Spreadsheet Presenter is an add-in for Microsoft Excel which will allow you to customize charts and reports in Microsoft Excel - as you desire. You will have many tools available to improve your worksheets, making them easier to read and follow, for your presentations and reports.

Add new colors, highlights, notes, automate formatting tasks, take images, export reports and more - in Microsoft Excel. Spreadsheet Presenter will make your work easier and faster, with a fresh and professional look.

Spreadsheet Presenter new version 2.2. This new release has 4 new useful tools: New color palettes ("Desert"), Delete customized styles, A new section: "Customize" in the File Information tool and A new section: "Logos" in My Favorites tool.



Software Information
System Requirements
Version
3.3.1

Excel 2000, XP, 2003.
Windows 7, Vista, XP, 2000, 2003
Memory: 128 MB
Pentium II CPU

File Size:
1.06 KB
License:
Free to try, $39.95 to buy
Screenshot:
View main screen
Rating :

Using Spreadsheet Presenter you will be able to:
Change the default Excel palette with new, brilliant and professionally selected colors to personalize and enhance the visual quality of your charts and reports.
Access to 5 new color palettes for your reports and other 12 for charts, customize and save your own color palettes with the colors of your business/customers.
Export selections of your Excel file as pictures to be used in presentations, reports, publications or web pages. also you could save many images in your worksheet and use them for future use.
Draw ovals and put sticky notes, add watermarks, stamps, highlights, arrows and more around the cells easily.
Clarify or intensify the color of the cell backgrounds, zoom to fit your selection with the screen, display or hide grid lines and more?
Give format, order, easy visualization and facilitate the development of reports or models that are easy to read and professionally impressive.
Customize, if you like, the tools according your needs and requirements to save time.
This new version of Spreadsheet Presenter has many powerful and useful features:
Autoformat
Select Alternate Rows Shading
Titles
Color Font
Cell's format
Format Borders
Format Range
Dotted Line Tool
Apply Formatting Options
Bullets
Format Date
Format Number
Change Case
Superscript and Underscript
Custom cells alignment
Change horizontal alignment
Change Vertical Alignment
Format cell's Height
Format Cell's Width
Unhide/hide Columns
Unhide/hide Rows
Clarify/Intensify Colors
Copy and Save selection as image
Toggle Settings
Freeze Panes
Easy Print
Arrange Windows
Select Palette
Save Palette
Add Note
Draw a Circle
Highlights and Arrows
Watermark
Stamp
Images
Add Label
Move Labels
Add Images
Text Box
Resize Charts
Change Chart Colors
Export sheets as...
Copy Color From Another Book
Add/Remove Text
Add text as Number Format
Apply your Favorite Palette
Add Iterative Tools Bar
Add Images and Objects Toolbar
Add Borders Format Bar
Add Style Bar
Copy and paste chart format
Save chart style
Apply chart style
View active book chart
My favorites
File information