Simple Invoicing and Inventory 3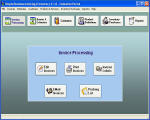 Easy to use invoicing, billing and inventory management software for small businesses!
Simple Business Invoicing & Inventory (SBII) is a complete sales management program that includes: invoicing, credit card processing, estimates or price quotes, inventory management, automated billing, mailing list management, and sales tracking.
Invoices and bills can be printed on plain paper or emailed directly to customers.






Software Information
System Requirements
Version:
3.1.4

Windows 8/7/XP/Vista
A hard disk with approximately 1.5 Megabytes of available space
8 Megabytes of memory
SMTP email server is required for email capabilities

File Size:
1.03 MB
License:
Free to try, $59.00 to buy
Screenshot :
View Screenshot
Rating :
Key Features:
An intuitive graphical interface with pop-up menus and pick lists that minimize typing. For example, to create an invoice you simply choose the customer and products sold from a series of menus. SBII fills in the invoice and computes the sales tax for you. Then, with the click of a button, you can also process credit card charges. Once completed, the invoice can be printed with mailing labels or emailed directly to the customer.
Estimates. With the same ease that you create an invoice, SBII now allows you to produce estimates or price quotes for your clients. You select the items from your predefined price list and the estimate is automatically assembled to be printed or emailed to your client.
Inventory Management. Once you record purchases of the products that you sell, SBII tracks inventories by deducting items sold from inventory on hand. Inventory may be managed using either the First in-First out or Last in-First out methods. Reports for inventory on hand, cost of goods sold, reordering stock are provided.
Customer tracking. Customer profile reports show each customer, the items they have purchased and the dates each item was purchased.
Sales tracking. Product sales reports give a complete picture of the products that are selling and those that are not. The Buyers report shows you the names of customers who have purchased a particular product.
Mailing list management. Customers can be separated into up to 100 groups. Mailing lists and address labels can be generated for any combination of one or more groups of customers. This feature lets you target your mass mailings to just those customers who are most likely to respond to a given mailing.
To help you get started quickly, customers lists and product definitions can be imported from delimited text files.
SBII can be configured to automatically compute two sales taxes (e.g., Canadian GST and PST).
Income data entered into SBII can be imported into OWL's Simple Business Accounting (SBA) to provide complete tracking of both sales income and business expenses.
What's New in Version 3.1.4
Version 3 offers a new, cleaner interface to all of its features.
Invoices now include separate billing and shipping addresses. Along with this are options for printing mailing labels for either the billing or shipping or both addresses.
Invoice titles are now user defined as is the title on printed estimates (e.g., "Price Quote", "Estimate", etc.). This allows the produced invoices to comply with Australian tax law requiring invoices to be labeled "Tax Invoice."
Quotes and estimates may now be produced within SBII.
OWL Software and X-Charge have partnered to bring you low cost, credit card processing that can be accomplished directly from within SBII. You'll save time and money because you won't have to retype information into separate credit card software or buy a separate credit card terminal. And best of all, X-Charge is Free!
RELATED SOFTWARE DOWNLOADS FOR SIMPLE BUSINESS INVOICING & INVENTORY