Service Desktop Pro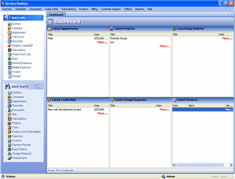 Service Desktop Pro is an integrated Business and Personal Info Management Software. Basically aimed at IT Service Providers, Freelancers, Consultants, Web Developers and Software Developers, this tool can be extremely useful for all types of business managers for managing their day-to-day business activities. It's tightly integrated and flexible modules allow you to handle most aspects of managing your business flow. Simplicity and ease of use are the key benefits of Service Desktop Pro. Be it a small time freelancer or a medium size company, this software can be used by anybody.

Service Desktop Pro handles over 20 key business requirements including Contact Management, Leads Management, Project Management, Billing Management, Document Management, Expense Management and Customer Service Management. The idea behind the software is to allow its users to record key business information relating to the business lifecycle of project procurement to delivery and customer service.

This software is highly useful specially for those freelancers and service providers, who place bids and procure projects from online freelance websites. Most service providers bid on several freelance sites, hence it is important to consolidate all bids in one place for timely action.

The Project Management module of Service Desktop Pro enables its users to plan project executions, monitor progress of work, allocate work to team members and intelligently calculate project deadlines.

Keeping track of expenses, invoices and receipts ensure that the users can at any point of time know the state of their financial position with respect to their expenses and income.

The Activity Scheduling modules enables the users to plan activities in advance, and to set alerts and reminders on scheduled and approaching activities.

The Subscription Management module allows to store website membership / subscription information, login information and passwords for various resources in one place for quick access.

The user management module ensures complete security of the software from prying eyes. Users can be created, modified and accordingly access rights assigned to them for various modules.


Software Information
System Requirements
Version:
2.0

Windows 2000,XP,2003
128 MB Ram
30 MB Hard Drive Space

File Size:
17.5 MB
License:
Free to try, $99.95 to buy
Screenshot:
View Screenshot
Rating :
Main Features of Service Desktop Pro :
Contact Management

Clean, Spacious & Prominent User Interface.
Manage Contact Details for both Individuals and Companies.
Search & Print Contacts based on multiple search criteria.
Automatically Resize Pictures while Adding them to Contacts.
Add Contacts and Companies to your Team List.
Group Search Results by Multiple Search Fields.



Time & Activity Scheduling

Schedule Appointments.
Set Reminders on various Activities.
Generate To-Do Lists for your Team Members.
View Calendar on a Daily, Weekly & Monthly Basis.
Attach Your Favourite Audio Files to Reminders.
Set Reminders to recur at chosen Intervals.
Search & Print Appointments & Reminders based on multiple search criteria.



Leads Management

Register Leads / Bids / Quotations from Online and Offline Sources.
Search Leads / Bids based on multiple search criteria.



Project Management

Manage Project Types and Categories for quick access.
Plan and Execute Multiple Projects and Tasks.
Create Project Tasks.
Allocate Projects / Tasks to Team Members.
Manage Products and Deliverables.
Generate Gantt Charts on projects.
Search Projects & Tasks on multiple search criteria.



Billing & Expenses Management

Record Billable and Non-Billable Expenses.
Raise Invoices on Projects / Clients.
Record Invoice Payments and Receipts.
Search Expenses, Invoices & Receipts on multiple search criteria



Track Subscriptions & Favourite Resources

Record Favourite Websites and Resources.
Manage both Paid and Free Website Subscriptions / Login Information / Passwords.
Set Reminders on Subscription Expiry.



Manage Digital Documents & Notes

Create / Attach Notes to various Activities.
Manage your Digital Documents.
Attach Documents to various Activities.
Search Notes & Documents on multiple search criteria.



Customer Service Management

Record Bugs / Defects associated with Projects / Tasks.
Record Project Installation details.
Manage Project Change Requirements.
Manage New and Additional Requirements.
Powerful and Interactive Search options on all Activities.



Other Features

Manage Database Settings.
Manage System Users and Access Rights.
Generate Extensive Reports on various Activities.
Backup and Restore Database.
Service Desktop Benefits
Manage Schedules, People and Projects more efficiently.
Overwhelm your Clients by offering Pro-Active Customer Service.
Eliminate Time Wastage on Management & Organization, utilize your precious Time on Planning & Execution.
Optimise your Business Flow by Managing Project Deadlines.
Avoid Financial Loopholes by effectively Tracking your Expenses, Invoices and Payment Receipts.
Improvise Funds Flow by timely generation of Invoices and matching them with actual Payment Receipts.
Prioritize your work & activity Schedules in order to meet deadlines.
Track products, deliverables, projects, subscriptions, website login information, serial numbers, installation keys and installation details for quick action on customer queries.
Integrate your Marketing, Sales, Billing , Execution and Customer Service processes.
Organize your Digital Documents for quick retrieval.
Manage your Project Procurement Process by keeping track of Project Leads, Quotations and Project Sources.
Identify Potentially Superior Project Sources and plan your Marketing Strategy accordingly.
Easily record and retrieve your login information on various web resources.
Intelligently plan Project Execution Schedules and compare them with actual results.
Generate various types of Reports in order to enable effective decision making.