Secure it Easy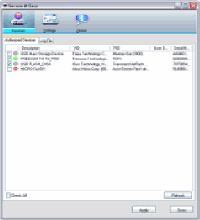 With the ability to control the use of USB Flash Drive, iPods, U3 smart Drives, MP3/MP4 Players, digital cameras, portable HDDs, mobile phones card readers, external hard drives to prevent them from copying data from your PC or copying unwanted data to your PC. Everybody that has a portable storage device in hand is able to copy data from your PC to the portable storage device. You now have the power to stop this. With Secure it Easy you can set specific permissions for the use of only certain portable storage devices. The devices that you permit for the use on your PC are classified as TrustedDevices and listed in a White List that only you can edit. If a user that has access to your PC tries to connect a USB Flash Drive that you did not authorize for use on your PC you will be notified by e-mail alerting you of the attempted security breach. The Secure it Easy USB Firewall allows you to maintain a high degree of data protection on your notebook, home and office PC. Optionally data that has been copied to a TrustedDevice you can use our portable Carry it Easy +Plus software that will ensure that the portable data is securely encrypted with 128 bit AES encryption.




Software Information
System Requirements
Version:
1.1.5.5

Windows 2000/XP/2003/Vista
.NET Framework 2.0
486 CPU or higher
32 MB RAM
20 MB free disk space

File Size:
1.25 MB
License:
Free to Try, $44.95 to Buy
Screenshot:
View Screenshot
Rating :
The Features & Benefit of Secure it Easy at a glance are:
Endpoint Protection
Protects PCs from data leakage or threads posed by portable storage devices such as USB Flash Drives, MP3 Players, iPod, Zune, digital cameras and other portable devices with internal memory.
Authorize Devices "Device White List"
Gives the administrator the ability to authorize the use of devices. These Authorized Devices are also called Trusted Devices. By authorizing a device a user will be allowed to use only this particular device. Any other portable storage device connected has not been authorized by the PCs administrator will not work. Also self executing devices like a USB Flash Drive with a CD-ROM Autorun Partition such as U3 smart Drives will not be accessible and thereby pose no thread..
Device Logging
All devices that are connected if they are authorized or not are recorded in a log file for later reference..
Network "Offline" Capability
When disconnect a Notebook from the local area network, the USB endpoint protection will remain working as configured..
E-Mail Notification.
In case an unauthorized device is connected to a protected PC the administrator has the option to be notified via e-mail.
Configuration Password
Only the PCs administrator is allowed to authorize devices for use. The configuration console can be protected by an additional password to access configuration.
User Interface Languages
Support English, German and French.