Resource Builder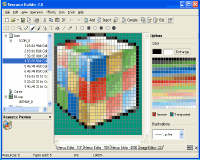 The complete solution for resource editing!
What makes application files unique and different from each another? First of all, it is their code that is responsible for the main functions of the program. The second thing is the resources of each application: its icons, images, labels, dialog boxes and other objects whose absence would make it impossible to comfortably work in Windows aimed at visual interaction with its users.
That is why any modern environment for quick development includes special utilities which help software developers create and manage resource description files containing these vital components of any application for the Win32 platform.
Unfortunately, despite the fact that most utilities make developers' lives easier, they often have serious drawbacks thus complicating effective work: they are uncomfortable, have serious limitations and are developed rather slowly obviously lagging behind the overall progress in the field of information technology.
That is why each professional software developer often uses some special utilities from third-party developers, for instance, Resource Builder , which is one of the best programs in its class.




Software Information
System Requirements
Version:
3.0.3.25

Windows 98/XP/2003/Vista/7
Pentium II CPU
256 MB of RAM

License:
Free to try, $59.00 to buy
File Size:
3.88 MB
Screenshot :
View Screenshot
Rating :
Key Features of Resource Builder:
Working with RC and RES resource files
You can create and edit any resources in the comfortable visual editors of Resource Builder and then save them to RC or RES files that can be used in third-party applications. Moreover, Resource Builder allows you to select and load the resources you need from resource files and create their new combinations. You can also select separate resources and save them to a file. Resource Builder is the only visual resource editor that allows to creating, editing and saving Unicode RC scripts.
Importing resources from files of various formats
Resource Builder has a unique feature of importing resources from Win32 executables (EXE, DLL ...) and from 32-bit and 16-bit binary resource files (RES, DCR). Using Resource Builder you will be able to restore resources used in your applications even if you lost their sources.
Patching and updating resources in executable files
Resource Builder makes it possible to update, patch and modify resources directly in executables, such as applications and dynamic-link libraries even without recompiling them.
Advanced features in working with graphic resources
Resource Builder allows you to work with images in the JPEG format as easily as with standard BMP images. Support for images with any size and colors count allows using Resource Builder as a replacement for Borland Resource Workshop or Image Editor, which unable to support "quality" images in projects. Moreover, the graphic editor of the program allows you to process images with the help of various filters making it no worse than serious graphic packages.
WYSWIG Visual dialog editor
A few simple mouse actions, editing of couple values in the Properties column and you get what you need! To make it more comfortable for developers, the toolbar contains all common Windows controls: labels, buttons, checkboxes and so on. To place them onto the form, a couple of moves with your mouse is quite enough. Using Custom Control libraries allows dramatically extending your dialogs.
Supporting the DFM format (forms in Delphi and C++ Builder)
You can view and edit forms created with Borland Delphi and C++Builder in the text form and preview them in original view. You can preview real image of edited forms and even more view them in "working" mode as application form. Resource Builder can also work with resources stored in Delphi packages.
What's new in version 2.6?
Vista icons support!
Resource Builder supports now Vista PNG icons. You can create, edit them directly in Resource Builder as well as link to compiled executables to add them Vista icons.
Vista-ready!
Resource Builder completely tested and adopted for Windows Vista.
Command line interface extended.
Command-line interface of Resource Builder extended by adding update resource functionality.
Preview panel in Image Editor.
Resource Builder allows to see real-time preview for editing graphical resources in the Image Editor.
Icon selector.
It is possible to select which icon or cursor image to load while loading or inserting icons into Image Editor or resources.
Align center horizontally and vertically in Dialog Editor.
New commands added to Dialog Editor to align selected controls center in window horizontally or vertically.
Resource Linker
allows to select linking method. You can choose between internal linking method and Windows API.
A lot of improvements made in resource compiler and other modules.
RELATED SOFTWARE DOWNLOADS FOR RESOURCE BUILDER