Reallusion CrazyTalk Media Studio Edition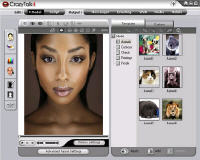 CrazyTalk combines powerful facial animation technology with easy tools designed to bring your photos to life through three specialized versions to create virtual hosts or animated actors. Simply import a single digital photo, use the CrazyTalk photo fitting wizard, record or import audio, and watch as CrazyTalk magically morphs your photo into a fully animated actor.

The total solution for talking 3D facial animation, CrazyTalk Media Studio exclusive professional timeline editor and high-resolution digital video offers flexible media output for all multimedia, web or video production projects. Get deep access to each animation track with advanced key frame control over your character, voice track, facial expression editing, eyes, head & shoulder movement, special effect overlays, precision lip-sync, & second layer audio for background music or sound effects. No other version of CrazyTalk offers ultimate access to every element of your character animation performance.




Software Information
System Requirements
Version:
4.6

Windows Vista/XP/2000
Pentium III 500 MHz
128 MB RAM
300 MB disk space
DirectX 9 & WMEncoder 9 are required for WMV exporting

License:
Free to try, $149.95 to buy
File Size:
32.5 MB
Screenshot :
View Screenshot
Rating :
Reallusion CrazyTalk Media Studio Edition has the following Features:
Facetrix, photo-based 3D facial morphing technology
Create 3D talking characters from a single photo and audio, real human, comic illustration, or pet photos.
Photo editing - Load photos from any device, Rotate, Crop, Resize, Enhance before face fitting
Photo fitting technology automation of face fitting, auto fitting and 3 manual modes of facial fitting adjustment
Advanced Face Settings - fake eyes, fake teeth
Use Mask to create custom photo background, ensuring realistic 3D head movement
Various Live stand-by modes to display the avatar's characteristics
Create messages with your own talking character and talking message
Send as HTML email, or compressed attachment
Exe standalone player includes different frames to match your style
Apply realistic facial expressions and face morph effects during talking animation

Expressix, speech animation technology
Record your own voice or Import pre-recorded wave files
Voice lip sync analysis
Type any text message to be read back, Microsoft SAPI4, SAPI-5 Text-To-Speech compliance for business applications
Proprietary Expressix creates natural lip-sync animation from audio and text
Adjust and alter your voice nature with Audio Morphing Filter
Custom emotions and gestures
Animated SFX and custom Emotives
Add independent Music Background

Timeline editor
Expression, Special Effects, head, shoulder and lip (mouth shape) tracks
Quick editing - users can group select, copy and paste, shift animation key location, strength directly from the timeline
Advanced fine tuning: click icons on the sequence interface to bring dialog box and adjust parameters
Timeline editor can perfectly work with IM as the talking head editing interface, saving edit result then update iClone face animation settings

Blazing Visual Experience
Rich library of customizable SFX effects
Custom your animated effects by importing images and animation files
Modify and fine-tune special effects - the location, size, transparency, and speed
Manage your own custom special effects library
Personalize your emotions for CrazyTalk for Skype

CrazyTalk's content manager
Organize and categorize content files
Add, move, delete, copy, paste categories and content files
One-click preview function
Quick links for importing or exporting

Flexible media output
Large Size (DVD video quality) output, MPEG-4 Video with adjustable bit rates, etc.
Targa (TGA) with Alpha channel output
WMV (Streaming Media), AVI, RM (Real Media)
Compatible with Office documents & Flash MX
CELP (MPEG-4) audio compression to reduce file sizes
Email file attachments compressed as CAB files for smallest possible size
BMP image sequence & WAV audio export

Interactive talking web-based characters
Auto-installable Active web component
Web component interactivity controllable using JavaScript or Visual Basic
Script level access to property, method and event controls
Export in Windows and RealMedia streaming media formats for publishing on your web site
Sample scripts to assist developers in learning how to control a talking image

PowerPoint and application program embed
Microsoft PowerPoint Tools Embed - EEG. MS Presentation with CrazyTalk's component, save memory, better interaction, and package wrapping
Shockwave Embed
SDK for Application Design - what programmers can do about CrazyTalk's component

Mobile friendly output - 3GP/MPEG4
3G Mobile Video Compatible Output - 3GPP and MPEG4
From best video quality to smallest size, flexible parameter adjustments - Quality, Size, and Bit Rate

Share the talking head with iClone - 3D character animation tool
Pass the face photo and fitting information to iClone through Reallusion Face JPEG, JPEG file containing the face fitting information in meta tag
Load CTS (the CrazyTalk's Talking Script) from iClone to generate animated 3D talking character

Send talking/animated electronic greeting cards
Categorized card templates
Add your own talking character and talking message
Include a text message
Add background music
Add JavaScript graphical effects
Send all images, sound, animation is a neatly packaged email attachment

Send talking messages
Create messages with your own talking character and talking message
Send as HTML email, or compressed attachment
Exe standalone player includes different frames to match your style
RELATED SOFTWARE DOWNLOADS FOR REALLUSION CRAZYTALK MEDIA STUDIO EDITION