Quick Business Manager Professional (5 Users)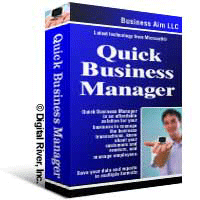 Quick Business Manager is an affordable solution for small and growing businesses for your organization to manage the business transactions, know about your customers, vendors, inventories, and manage employees. QBM is designed to be easy to use, with the state-of-the-art user interface. since it is designed for business people who want to quickly manage their business without the hassle of learning about accounting
Quick Business Manager is simple and yet powerful enough to be used by professionals in the field. Unlike other accounting applications, which require extensive training in accounting, you can work with Quick Business Manager from the start and get the results needed for your company.
The Professional edition works both as a stand alone application or in a client-server environment. In a client-server environment, where the computers are connected to the network, such as Local Area Network (LAN), QBM Server is installed as a windows service on the server computer. Some general features are: Financial, Sales, Purchasing, Inventory, Employees and Payroll, and Reports.




Software Information
System Requirements
Version:
New

Windows NT, 2000, .Net Server, XP or .NET 2003.
PC with 300 MHz processor clock speed required
256 MB RAM
Hard Disk Space: 400 MB.

License:
Free to try, $995.00 to buy
Download Size:
163.00 MB
Screenshot :
View Screenshot
Rating :
Some other features are:
Export Invoices, Quotes, Orders, Bills, and any other documents to Microsoft Excel.
Save your data and reports in multiple formats: Microsoft Word, Excel, Web Page, PDF Format, Plain Text, XML Format
Create Graphs: Use charts for graphical view of reports
Easy to use with minimum training required: View the QBM demo
Latest technology from Microsoft

Store and secure your data with Microsoft SQL Server 2000, the most advanced database server in the market
Developed using Microsoft .Net technology, the most advanced technology in the market
Fully Object Oriented: developed using Microsoft C# programming language
Multi-Tier: Quick Business Manager is an enterprise business manager that is divided into four logical layers or tiers. As a result of its design a business can deploy the application in a variety of distributed and non-distributed configurations.
Increased performance in Client/Server environment: uses Microsoft .Net Remoting

Lower Cost of Ownership and Quick ROI.

Very user friendly: Intuitive user interface makes it easy for any user to be productive quickly. No need for an intensive training.
Each area uses different color schema to make working with the software more enjoyable.
Affordable, and quick to implement
Highly customizable to fit your business needs