Profit Loss Report Spreadsheet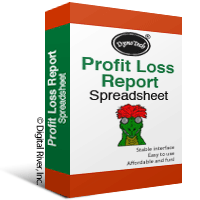 Looking for a better way to keep track of your small business income and expenses? Are you sending too much of your hard-earned money to the IRS each year because you are not taking all of your qualified deductions?

This award-winning Excel spreadsheet is a simple alternative to accounting software for a home business to track income and expenses. Make it easier for you or your tax preparer to fill out Schedule C when tax time rolls around. For Home Business, Small Business, Self Employed. If you've outgrown the shoebox organization method, but aren't quite ready for full-blown accounting software, this spreadsheet is for you! Designed to save you time and money. And, YES, it may even help prevent those Tax Time Headaches.




Software Information
System Requirements
Version:
3.40

Windows 8/7/XP/Vista
Requires MS Excel. (Excel 2000 or higher)
64 MB RAM

File Size:
425 KB
License:
Free to try, $29.95 to buy
Screenshot:
View Screenshot
Rating :

1. Enter company data

No complicated setup to customize your report. Be ready in a few minutes
Company Name: Name you want to appear on the report.
Tax Year: Current tax year to show up on the report and monthly expenses pages.
Contact Person: Name you want to appear as the point of contact for the report.
Contact E-mail: E-mail address, phone number or any other way to reach the contact person.
Vendor Names: List of vendors. Add them to the list one time (at any time), then just select from a list when you enter their expense. Add as many rows as you need for your vendor list. Sort names with one click.
Currency Symbol: Select the symbol you would like displayed. (e.g $ = Dollars, ?= Pounds)
Customize Headings: Change the headings for the entry categories. Includes main and sub-titles
2. Enter income & expenses

Easily organize income and expenses for business management and tax preparation.
Date: For each month, enter the date of your income or expense.
Ref #: Enter reference or check number, CASH, CC or other method of payment.
Vendor Name: Use drop-down list to select the vendor. Add new vendors on the Data tab at any time, so you only have to type their name one time. You even can filter by vendor name with only two clicks to see expenses or income by specific vendor.
Categories: Expenses and Cost of Goods organized like you need them for Schedule C (U.S. Self-Employment tax form). Change to anything you like from the Data tab.
Comment: Place to add a comment about 'other' expenses or whatever you like
3. View summary report

Save time and increase accuracy. Totals are calculated automatically for you
Report Heading: See tax year, company name and contact information in report heading.
Profit-Loss: Automatically calculates and shows if you have a Profit or Loss for the year. Instantly updates when you add new expenses or monthly income.
Income: Displays income for the month. Immediately see your Profit-Loss status, as well as quarterly and yearly totals.
Expenses: Automatically organized by month, quarter and year. See everything at a glance.
Cost of Goods: If you sell products, the report will show you what it cost you to acquire the products. You will see purchase, materials, labor and other organized by month, quarter and year.
Pie Charts: Report page displays pie charts for Income, Expenses and Cost of Goods Sold. Automatically updates in real-time.