Private InfoKeeper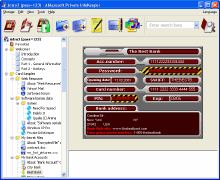 Private InfoKeeper is innovative data security system designed to protect your confidential data by a very effective method. It enables you to hide your personal information or corporate secrets from the prying eyes of criminals, business competitors and just curios people.
Private InfoKeeper provides a highly encrypted and password protected environment for your sensitive data. It enables you to store logins/passwords, commercial information, contacts data with pictures, PIN codes, software serial numbers, insurance information, calling card data and lots more. Also Private InfoKeeper is able to encrypt entire files. Unexcelled web browser integration allows Private InfoKeeper gather and fill logins and passwords silently without any of your actions. Our brand new Multilogin feature allows Private InfoKeeper intuitively manage numerous login and password pairs for the same web page. Extreme data protection is achieved by using industry standard cryptographic algorithm AES with 256bits key length, which was approved by US government for military service. Built-in Spyware Counteraction System repels effectively any attempts to steal your private information by keyloggers and other spyware. Advanced Master Password Handling and special programming techniques protect your master password and make impossible to crack it in commensurable period of time. Secure Clipboard Data transfer is fully automatic feature, which lowers to nothing chances of stealing your data from Private InfoKeeper clipboard. Your information will be protected even when you are away from your computer thanks to automatic locking system, which will lock your Private InfoKeeper storage after determined period of inactivity. Built-in powerful Password Generator produces passwords of given length and structure. Constant using of built-in Backup/restore function ensures that you will never lose your data. This tool makes you calm.




Software Information
System Requirements
Version:
2.80

Windows 8/7/XP/Vista
100MHz processor.
512 MB of RAM.
15M of hard drive space.

File Size:
651 KB
License:
Free to Try, $29.95 to Buy
Screenshot:
View Screenshot
Rating :
Private InfoKeeper Features:
Internet browser integration
Insert login information to the web pages via our Internet Browser integration automatically without any clicks. MS Internet Explorer, Mozilla FireFox, SeaMonkey support.
File encryption (since v2.6)
Private InfoKeeper can encrypt any files (pictures, documents etc.) for you.
Spyware counteraction system
Prevents any possibilities and attempts to steal your data or master password by spyware, like keyboard spies or clipboard dumpers.
Secure clipboard data transfer
Protects your information during clipboard operations.
QuickPasswords function
Provides a quickest data access bypass clipboard - author's function.
Advanced master password handling
It increases cracking time of your encrypted storage in 5000 times.
Built-in Password generator
Create with built-in powerful password generator passwords of given complexity, length and structure.
Extreme data protection
Encrypt your data with 256-bits key and use industry standard cryptographic algorithm AES which was approved by the US government for military service.
Automatic locking system
Locks your storage automatically to prevent unauthorized access to your data while you are away from your desk.
Backup function
Restore/backup function will insure your private information of accidental destruction.
Printing your data
Easy and quick print a hardcopy of your passwords.
No backdoor in our application
Master password is only one way to access your storage.