Presto! Digital Converter

Convert Video tape VHS, VHS-C, Hi8, Betamax to DVD Instantly!


Videotapes usually wear out after 10 to 15 years, and only if you can convert them to digital formats. Moreover, many classic movies are not available in DVD format, and some beautiful memories such as your wedding videos and your baby's first steps won't last forever. Presto! Digital Converter is specifically designed for anyone who wants to preserve his or her precious footage in the best possible way. If you, too, want to avoid losing your valuable video memories, then upgrade your videotapes now to DVD.

Presto! Digital Converter is a hardware and software integration, includes a USB 2.0 A/V digital converter and a conversion application. Specifically designed for helping convert your home videos to DVD, Presto! Digital Converter also ensures you get the best quality in your DVDs possible. Just select either mode – "Convert Mode" or "Record Mode" – to transform either entire videotape or multiple video segments to DVD. With Presto! Digital Converter, you can accordingly preserve and share with family and friends those old video tapes that are wearing out year by year.

Additionally, the new Presto! Digital Converter now provides an easy way to convert analog video to an MPEG-4 file so it is ready to use in mobile devices, such as iPod or PSP. And In addition, the package will include Presto! VideoWorks 6 Platinum, the all-in-one video editing and authoring software, allowing you to further create a your own customized videos.

Presto! Digital Converter supports convert almost all popular video tape formats, including VHS to DVD, VHS-C to DVD, Hi8 to DVD, Betamax and more, allowing more flexibility to do video tape conversion.

Software Information
System Requirements
Version:
1.06

Windows 2000 SP3/ XP SP1 or above
CPU: Intel Pentium 2.0 GHz and above
Memory: 128 MB RAM
Hard Disk Space: 100 MB or above for installation 300 MB for DVD+RW disc burning
5 GB for DVD+R, DVD-R, DVD-RW, and 9 GB for DVD+/- R DL disc burning
An available USB 2.0 port
DVD burning drive

File Size:
8.62 MB
License:
Free to try, $71.50 to buy
Download:
Click to Download
Rating :
Main Features of Presto! Digital Converter :
Converts video to DVD from any device with AV-out or S-Video-out, such as Hi8, V8, VHS, and more
Helps convert analog input to digital MPEG-4 for Apple iPod and Sony PSP™ video use.
Converts video to files for further editing and use before burning to a DVD
Provides two operation modes - "Convert Mode" and "Record Mode" - and its easy-to-use interface is suitable for all users from expert to novice.
Append additional video clips to a DVD+RW disc
Record directly to DVD-Video, DVD+VR formatted discs
Besides DVD+R, DVD+RW, DVD-R, DVD-RW, also supports DVD+R double-layer and DVD-R dual-layer recording
Convert Video tape to DVD in A Few Quick, Simple Steps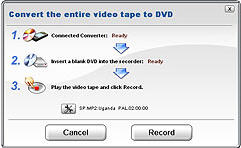 Presto! Digital Converter, an integrated hardware and software solution, is the ultra-convenient tool for converting video tape to DVD. Its easy-to-use interface requires no technical knowledge, so that even a beginner user can back up their video tape to DVD quickly and easily.




Install Software

Insert the installation CD into your CD-ROM drive and follow the installation instructions. The whole process will take you no more than 3 minutes, including the installation of the driver and software.


Connect Hardware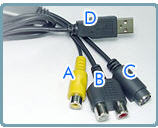 A. Composite video input

B. Audio L/R input

C. S-Video input

D. USB 2.0 connector


Establishing the connection between the A/V device and your computer

1. Connect the USB 2.0 connector to your computer to convert video and audio together at once.

2. Connect either the "S-Video input" or "Composite video input" to an A/V external device such as a VCR or camcorder for video capturing, and then connect the Audio L/R input to receive the sound.

Using Presto! Digital Converter: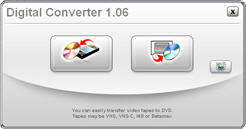 Presto! Digital Converter offers an easy way to transform video tape to DVD. To give users more using flexibility, Presto! Digital Converter provides users with two operation modes, "Convert Mode" and "Record Mode". When you finish the hardware and software installation, all you need to do now is simply select the mode you desire for videotape backup. Besides, with "Appending Technology", you can further append video clips from different sources when using DVD+RW discs.
1.Convert Mode: Converts the entire video tape to DVD
Under the Convert Mode, you will be instructed to convert the entire videotape to DVD disc. When everything is ready and the recording process gets started, no further steps are needed before conversion is completed. However, you can of course stop recording anytime during the conversion process.



2. Record Mode: Records multiple video segments from video tape to DVD Just like using a video or tape recorder - but with software control



Under the Record Mode, you will have more freedom to decide which segments from the source tapes are the ones to be recorded. You can now preserve special memories and at the same time remove some of the footage you want to omit from the final version. The user interface consists of a video viewer and a VHS-like control panel. Accordingly, you can simultaneously watch the video and select the parts to be recorded in real time simply by using "Record" and "Pause" controls.
Change Preferences

You can also open the "Setting" dialog box to further change the Video Source, Video Quality, Audio Type, TV System, DVD Recorder List, Timer Setting, Temporary folder, or more.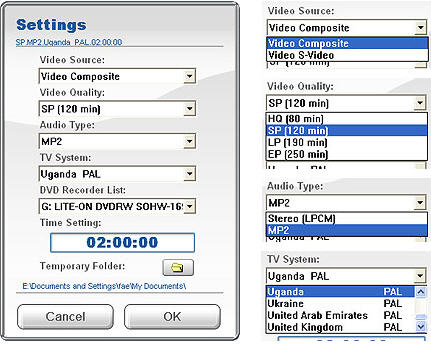 Notice: Use of this product for unauthorized duplication of copyrighted material from DVD, VHS or other sources is strictly prohibited. Duplication of material from DVD, VHS or other sources for any reasons other than personal use that qualifies under copyright laws regarding fair use is not the original intent of this product's design and distribution.