Picture Caller ID
A simple way to block telemarketing calls with your computer. Block unwanted calls before you even answer with this Caller ID software!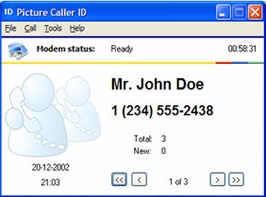 Picture Caller ID identifies and blocks unwanted callers before you answer the phone using Caller ID.
Call Blocking enables effective telemarketing call block by cutting off black-listed numbers, such as the numbers that are blocked, out-of-area, or unidentified. The Talking Caller ID feature lets you hear who's calling using text-to-speech to announce caller's name and number, so you only answer the call when you want to.

Caller ID Overview:
Picture Caller ID is a software-only Caller ID tool for your computer. It uses your modem and Caller ID service provided by your phone company to identify and block unwanted calls before you answer the phone.

Telemarketer call block works by cutting off the calls originated from a number that is black-listed; you may black-list the numbers that are withheld, private, out-of-area, or even the numbers that can not be identified.

Picture Caller ID features various call announce options. It can announce the caller's name and number with the computer-generated voice by using a text-to-speech engine. Alternatively, you can map personalized ring sounds to the callers, so that you hear distinctively who's calling even if you are away from your computer.

Picture Caller ID supports a number of fully customizable visual methods of telling you who's calling, ranging from enabling a large full-screen Caller ID display that can engage itself automatically in case you are away from your computer, to displaying an unobtrusive Caller ID tool-tip notification near the system clock that will not disturb your work.

Software Information
System Requirements
Version:
2.01

Windows 8/7/XP/Vista
Pentium II CPU
64 MB RAM

File Size:
522 KB
License:
Free to try, $19.95 to buy
Rating :
More Information :
Computer Caller ID
Picture Caller ID utilizes your modem and Caller ID detection (also known as Calling Number Delivery) to identify incoming telephone callers. Caller ID is a service that lets you screen your calls, so you only answer the call when you want to.

The program supports Caller ID systems used in the US and Canada, the United Kingdom (British Telecom), Australia and New Zealand.




Caller ID notification pop-up.


Picture Caller ID software maintains a telephone number database including custom sound alerts for a caller, as well as other caller's details. It provides a per-caller customizable ring alert sound and a pop-up window to notify you about an incoming call.

Call can be accepted or rejected by you or by the program itself. You won't even hear rings from blacklisted callers, once they are identified. The program is able to block unwanted calls, including blocked (private) numbers, out of area calls and those calls that were not identified.

Picture Caller ID software works with Number Only Caller ID service as well as with Name and Number service. It is able to match the phone number against names that you store in a phone book. This allows users with Number Only Caller ID to see the name of the caller or substitute Caller ID name with more readable one.

Built-in Phone Book
Once you have entered the details in the Picture Caller ID Phone Book, every time you receive a call, their name and telephone number will appear. You will hear a distinctive ring pattern once you assign that caller a unique ring sound or melody. You can even block an unwanted caller by automatically redirecting calls from that telephone number to the answering machine.

Talking Caller ID
Picture Caller ID can announce call details in voice. When someone calls in, their name and/or telephone number will be announced by computer's voice. This is useful if you are in another room and wish to know who is calling. You can then choose to answer or not.

Identifying Who's Calling

Computer Caller ID informs you of who's calling before you answer
Selective call block allows easy blocking unwanted calls
Three types of incoming calls: white listed, normal and blacklisted
Audible warning when incoming call is detected
Custom individual Incoming Ring sounds for each caller
Complete history of all calls received or made