Parallels Workstation for Windows & Linux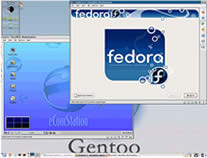 Parallels Workstation: One Machine. Multiple Operating Systems. Unlimited Possibilities.
Parallels Workstation is the most powerful desktop virtualization solution that enables users to create multiple independently operating, completely self-contained virtual machines on a single PC. Virtual machines can be created to run a wide range of popular operating systems, including the entire Windows family, Linux distributions from Mandrake, Red Hat and SUSE, OS/2 and FreeBSD.

Trusted Technology for Powerful Performance
Parallels Workstation is a hardware emulation virtualization solution. This stable, trusted technology maps the host computer's hardware resources directly to each virtual PC's resources, allowing each virtual machine to operate identically to a stand-alone computer. Parallels Workstation's sophisticated virtual machine engine enables each virtual machine to work with its own processor, RAM, floppy and CD drives, I/O devices, and hard disk – everything a physical computer contains.

The World's First Hypervisor-powered Virtual PC Solution
Parallels Workstation 2.1 is the first desktop virtualization solution to include a lightweight hypervisor, a mature technology originally developed in the 1960s to maximize the power of large mainframes. Hypervisor technology dramatically improves virtual machine stability, security and performance by using a thin layer of software, inserted between the machine's hardware and the primary operating system, to directly control some of the host machine's hardware profiles and resources. It not only makes Parallels Workstation-powered virtual machines secure, stable and efficient, but also empowers users to immediately realize the benefits associated with Intel VT hardware virtualization architecture.
Software Information
System Requirements
Version:
2.1

Windows 8/7/XP/Vista or Linux
Pentium II 400 MHz
32bit platform.

License:
Free to try, $59.00 to buy
Screenshot:
View Screenshot
Rating :
Main Features of Parallels Workstation for Windows & Linux:
Hypervisor Technology for Stronger, More Stable Virtual Machines:
Parallels Workstation is the first desktop virtualization solution to include a lightweight hypervisor that directly controls some of the host computer's hardware resources. The inclusion of this trusted, mature technology ensures that virtual PCs built using Parallels Workstation are the most stable and efficient available.
Optimized for Hardware Virtualization:
Parallels Workstation's lightweight hypervisor fully supports the benefits of next-generation CPUs built on Intel's VT architecture, and will support AMD Pacifica architecture when it is released to the general public.
Strong OS Support:
A sophisticated virtual machine engine that offers the broadest support of x86-based operating systems, including:

The entire Windows family - 3.1, 3.11, 95, 98, Me, 2000, XP and 2003
Linux distributions from popular distributors like Red Hat, SuSE, Mandriva, Debian and Fedora Core
FreeBSD
"Legacy" operating systems like OS/2, eComStation and MS-DOS.

Easy to Install, Easy to Use: A powerful wizard enables users to create virtual machines in seconds. The industry's cleanest, most user-friendly management console ensures hassle free control of all virtual machines.
Highly Efficient: A small program footprint and trusted hypervisor technology maximizes the efficiency of both the primary and guest OSes.
Lowest TCO: At only $49.99 per license, Parallels Workstation is the most cost effective virtual PC solution available today. Its ease of use, high-efficiency, quick startup time and responsive technical support program maximize value and significantly reduce TCO.
A completely new, visually stunning user interface.
Better virtual machine performance, stability and isolation.
"Suspend and resume" functionality lets you instantly suspend a virtual machine's state and resume it at a later time without having to completely shut down and start up a guest operating system.
Support for Physical Address Extension (PAE) allows Workstation 2.1 to run on PAE-enabled primary OSes with up to 4GB of RAM.
An improved, redesigned Parallels Tools package for Windows that provides useful add-on features that let each user customize their Parallels Workstation experience. New tools include guest/host time synchronization and complete support for normal video modes in Windows 95, 98 and Me.
New "Compacting Hard Disk" feature that removes unused space from expanding virtual machine hard drives, increasing the free disk space of the primary OS.
Improved OS/2 guest performance.
Uses & Benefits
Use Virtual PCs to lower hardware and operating costs.
Since users can work with multiple operating systems simultaneously and seamlessly switch between virtual machines running them, there is no need to dedicate entire machines to specific operating systems. From one location, Parallels Workstation users can load and use the ideal operating system to compete necessary tasks. With a reduced number of physical machines, enterprises can significantly lower hardware infrastructure expenses, dramatically shrink operating and cooling costs, and more efficiently usephysical office space
Improve IT efficiency.
Testing new software, updates or patches in a virtual PCs prior to deployment to physical environments ensures that potentially hazardous bugs or conflicts can be identified and eliminated before they can do damage to servers or individual machines. IT managers can also test complex, multi-tier applications on a single machine rather than risk their physical network.
Run mission-critical "legacy" applications on virtual machines alongside modern day-to-day applications.
Instead of dedicating an older machine specifically to run an aging legacy program, users can create a virtual machine inside with the necessary hardware requirements and that runs the appropriate legacy OS, and run it alongside their primary OS.
Create portable virtual PC profiles that can be used anywhere.br> Parallels Workstation virtual machine profiles can be easily zipped in a single file that can be instantly loaded on any Parallels Workstation-enabled machine. Users working anywhere can work their "home" machine profile, regardless of their location, or their temporary workstation's hardware configuration.
Speed software development & strengthen QA testing. Users can create virtual development and testing environments on a single machine, enabling them to test software in a variety of real world conditions in real time without having to boot up multiple machines. This streamlines the QA process; testers are able to perform a more complete review in a smaller timeframe, resulting in a more mature, bug-free final product.
Share complex, multi-tier demonstrations from a single laptop. By creating several virtual machines on a portable laptop, sales engineers and business development managers can demonstrate their software's full capabilities across a real network of virtual PCs, rather than remaining tethered to a physical, off-site network of physical servers and workstations.
Create student-friendly teaching environments. Parallels Workstation enables instructors to create self-contained virtual PCs in which users can work with multiple operating systems and software sets simultaneously. Virtual machines can be programmed to automatically reset at shutdown, ensuring that students will have a clean, error-free environment to work with each time they come to class.
RELATED SOFTWARE DOWNLOADS FOR PARALLELS WORKSTATION FOR WINDOWS & LINUX