Paragon Drive Copy Professional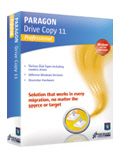 Paragon Drive Copy Professional is a cutting-edge solution to deploy new hard drive, migrate data to new hard drive, or use your old PC in a virtual environment, create bootable backup copy of a hard drive or its partitions and more.
Paragon Drive Copy the most efficient way of computer migration for any software and hardware combination, from any source to any target. You no longer need to spend hours performing tedious, complicated re-installations when buying or upgrading your PC. Take all the best from the system you're used to - and simply move it to the new environment. Use Drive Copy 11 Professional for fast, efficient computer migrations of any software/hardware combination, from any source, to any target. It includes all latest innovations in migration of Windows OS and data to different environments.
Software Information
System Requirements
Version:
11.0

Windows 7/Vista/2000/XP/2003
512 MB of RAM
Hard disk drive with 40 MB of available space
SVGA video adapter and monitor

File Size:
49.9 MB
License:
Free to try, $39.95 to buy
ScreenShot
Click to View
Rating :
With Paragon Drive Copy Professional help you can:
Migrate your system based on Windows Vista and later editions from an MBR disk to the latest 2.2TB+ HDD on a computer controlled by the old BIOS, not the new UEFI (Unified Extensible Firmware Interface), thus taking advantage of modern ultra high capacity hard drives on systems that don't support it.
Move your Windows (any version since XP) from a regular hard disk to a fast SSD (Solid State Drive) even of a smaller capacity, thanks to advanced data exclusion capabilities. Speedy, yet completely indifferent to mechanical impact SSD enables to get the most out of your system with minimal risk.
Augment 32-bit Windows XP by adding support for GPT (GUID Partition Table) disks, thus having the option to transfer and store data on new internally connected ultra high capacity hard drives.
Pack up your Windows (any version since XP) to a special container for later deployment on a different hardware configuration. It's the best option when upgrading HDD on laptops, which most likely can accommodate one hard disk only.
Migrate your Windows (any version since XP) to a different hardware platform. When upgrading to newer or just replacing failed hardware use our unique P2P technology to guarantee startup of your system on a dissimilar hardware configuration.
Transfer your Windows (any version since XP) to a virtual environment of Microsoft Virtual PC, VMware Workstation/Fusion, or Oracle VirtualBox (P2V).
Features Overview
Copy Facilities:
Partition/hard disk copy to successfully transfer all on-disk information including standard bootstrap code and other system service structures, thus maintaining the operating system's working capability.
Migrate OS to SSD to move any Windows OS from a regular hard disk to a fast SSD (Solid State Drive) even of a smaller capacity, thanks to advanced data exclusion capabilities.
Migrate to/from Container to pack up a Windows system to a special container for later deployment on a different hardware configuration.
Partition/Hard Disk Management Facilities:
Basic functions for initializing, partitioning and formatting hard disks (create, format, delete). Instead of the standard Windows disk tools, the program supports all popular file systems.
Mount a partition (assign a drive letter) of any file system type to make it available for your operating system.
Undelete Partitions Wizard to recover an accidentally deleted partition.
Modify file system parameters (make active/inactive, hide/unhide, etc.).
User Friendly Fault Minimizing Interface:
Comprehensive wizards to simplify even the most complex operations.
Graphical representation of the data to gain a better understanding.
A handy Launcher to easily find and run the required tasks.
A context sensitive hint system for all functions of the program.
Previewing the resulting layout of hard disks before actually executing operations (so-called virtual operations).
Virtualization Facilities
P2V Copy to migrate a Win2K+ physical system to a virtual environment in the online mode.
P2V Adjust to recover the startup ability after unsuccessful virtualization with a 3rd party tool.
Automatization Facilities
Task scheduling to automate routine operations. It can be particularly effective when you have to repeat a sequence of actions on a regular basis.
Scripting to make the program create a script of any set of operations you need. Besides support of all operations available in the interactive mode, the unattended mode provides some additional features, such as conditional execution, subroutines, repeatable iterations, disk/partition properties analysis, errors management, etc.
Auxiliary Facilities:
GPT Loader is a special system driver to allow use of all space of modern ultra high capacity drives (larger than 2.2TB) on systems that don't support it.
Conversion of basic MBR disks to basic GPT to enjoy all benefits of the newest partitioning scheme with minimal effort.
File Transfer Wizard to make such operations as transferring of files/directories or burning of them to CD/DVD as easy and convenient as possible. Providing access to Paragon backups as regular folders, it may also help to replace corrupted data from a previously created image in case of an operating system failure.
Volume Explorer is a handy tool when you have different file systems on the disk, whether they contain an operating system or just data. Volume Explorer will let you explore a file system of any type and provide access to the necessary files and directories regardless of their security attributes.
Network Configuration Wizard to establish a network connection under Linux or WinPE either to save a backup of a partition/hard disk or just several files on a network computer or retrieve a previously made backup from a network computer for recovery purposes.
Boot Corrector to fix most of the system boot problems that can be a result of a human factor, program error or a boot virus activity.
Recovery Media Builder to create a bootable recovery media based on Linux/DOS or WinPE 3.0 on a CD, DVD disc, or flash memory, which can later be used to boot and recover your computer in case of an operating system failure. Moreover, with its help you can save data from partitions of your hard disk directly to compact discs or burn ISO-images. The utility supports various formats of laser discs: CD-R/RW, DVD-R/RW, DVD+R/RW, DVD-R, DVD+R double layer, Blu-ray and can handle multi-session burning.