NoLimits Fairground Simulation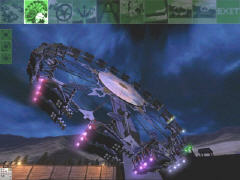 NoLimits Fairground Simulation Game lets you experience Authentic Thrills of a Fairground.
NoLimits Fairground Simulation brings the fun and excitement of nine picture perfect simulations of real Park Attractions! An interactive screensaver so powerful you may start taking lunch breaks at your PC!
The screensaver allows you to watch nine of the world's most famous fair rides. An included simulation program allows you to control and ride the rides like you were really there!
You can change lighting, speed, and other settings for each ride. In simulation mode, walk through, ride, and tour your fairground in full operation. You may even import music to play to further set the theme and mood! With realistic Day and Night cycles in your park, No Limits Fairgrounds Game will bring the excitement of a fair without any of that "Getting sick to your stomach" feeling! You may not have to ever pay admission or ride fees again! The only things we can't simulate are the wind and the funnel cake, those you'll have to provide yourself!

Download Trial 58.8 MB
Software Information
System Requirements
Version:
1.50

Windows 8/7/XP/Vista
Pentium 1.8 GHz
3D video card with 512 MB RAM
512 MB RAM
DirectX9.0c or higher

License:
Free to try
File Size:
58.8 MB
Screenshot:
View Screenshot
Rating :
Brief Ride Overview:
Breakdance:
Old fashion "tea cups" have nothing on these shiny red cars that whip around in circles while spinning on a circular track at incredible speeds. Turn on the strobe lights for a slow-mo rush!
Fly Away:
What happens when a Ferris Wheel goes berserk? The adrenaline pumping inverted wheel will leave you hoping that "Fly Away" is little more than a name!
Sledgehammer:
Strapped to a giant Frisbee disk which is attached to a giant pendulum. As you spin wildly you are also being flung by the pendulum more than hundred feet into the air! Feel sick yet?
Carnivore:
6 spinning claws attached to a giant spinning post, whirling dozens of feet above the ground, and you are caught in its grasp. There's little hope of escape once the talons grab hold!
Topple Tower:
We've all been on the ride where you sit atop a giant post that spins people around in a circle. Sure, Topple Tower can do that, but what happens when the giant post falls over!?
Suspended Top Spin:
A giant weight attached to a counterweight. What's the counterweight? You are! Rotate around in near perpetual motion that will make you near perpetually dizzy!
Shot and Drop:
Suspended high in the air the floor suddenly drops out from under you, sending you freefalling a dozen feet downward before stopping again... that's when you look up and realize you were suspended only half as high as this monster goes... Just don't look down!
Booster:
Guests blast into orbit as they climb aboard the booster ride, spinning madly through a series of ultra-fast, super surprising twists and turns. The ride styling features an outer space theme, with the vehicles representing colorful planets and satellites orbiting around a central solar icon.
Condor:
See the world from a bird´s eye view. Condor offers a relaxed and comfortable ride at a breathtaking height. The tower stands over 100-feet tall, 56 passengers at a time, two per gondola, turn at the ends of four rotating arms, circling the tower in 60-foot spin
RELATED SOFTWARE DOWNLOADS FOR NOLIMITS FAIRGROUND SIMULATION