Multi Pos for Restaurant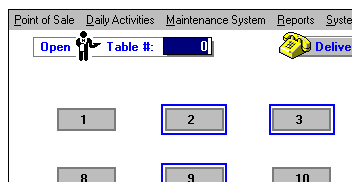 Looking to cut your restaurant losses? Want to increase your profitability? Need to improve your customer service?
You've come to the right place!
Multi POS for Restaurant© is your complete restaurant point of sale (POS) and store management software solution. It will help you maximize your restaurant efficiency, prevent employee mistakes, prevent employee thefts, increase profitability, and much more.
Multi POS for Restaurant© is NOT just another point of sale software. It is a total restaurant management solution for the demanding restaurant industry. In fact, Multi POS for Restaurant© was designed and created exclusively for use in a restaurant environment. Multi POS will be able to help you better manage your restaurant. An external utility will also enable you to quickly import customer and menu item data from another software into MULTI POS.
If you're ever interested in making your restaurant operate more efficiently and increase your bottom line, then Multi POS for Restaurant© is for you!




Software Information
System Requirements
Version:
3.07

Windows 2000, XP, Vista or 7.
400 MHz Pentium Processor minimum
128 MB Memory

License:
Free to try, $175.00 to buy
File Size:
10.2 MB
Screenshot :
View Screenshot
Rating :
Some of the features in Multi Pos for Restaurant are:
Guest Database Management: Improve Customer Service
Detailed customer history and complete control over your House Accounts
Automatic tracking of remaining balance and credit
Identify regulars and VIPs
Track customer preferences to meet and anticipate special requests
Phone order processing
See the caller information and last orders before you even pickup the telephone by using the advanced Caller ID interface
Advanced tracking & dispatching of Delivery orders (by tracking your drive thru completion time)
Allow your customer to pay any amount toward their balance owed (any over payment will be returned to the customer as change due)
Ability to specify a due date for a balance owed using House Accounts
Credit card details.
Floor Management: Maximize Efficiency
Fully configurable table layout interface (design it according to your physical number of tables)
Maximize seat utilization by viewing your occupied table, available table, table served time, and other information directly from graphical table layout screen
One click access to order entry screen for Dine In, Delivery and Bar orders from within the program's main screen
Combine several tables into a single one for large parties
Split the payment of an order into the several members of a table
Instantly track covers for more efficient kitchen and server management
Increase table turns by tracking party status
Administration (menu changes, employee permissions, etc.) from remote location with 'on the fly' update to each station's database
All stations can be managed from the server in case one of them crashes
Remote kitchen & bar printer support (handles up to 10 kitchen printers per station)
Marketing Management: Increase Repeat Business
Conduct powerful email marketing campaigns from within the program to increase repeat business
Print mailing labels to reach select target audiences
Track special occasions such as guest birthdays
Gift Certificate management with complete control over your gift certificate issuing, tracking, & redemption
Customer counts
Per person averages
Ability for adding custom messages at bottom of guest checks
Point of Sale Features: Simplify Daily Management
Unlimited number menu items
Modifier items prompting with unlimited number of modifiers for each menu category
Unlimited number sales groups or revenue centers
Menu items can be entered into the order either by code or by description
Completely user-defined and flexible discounts and surcharges
Automatic server and table number prompting
Automatic party size prompting
Automatic tipping feature
Invoice notes for Delivery
'Kitchen Note' feature for cooking instructions and other kind of messages to the kitchen
Two currencies can print on guest check
Invoices can be configured to print in different languages
Accept unlimited payment types towards an order (each one pays his part of the check)
Flexible tax setup
Flexible menu item pricing support. You can setup the day of the week and the time of the day to switch from using Price 1 to Price 2
You can even setup different menu item prices for each of the order types
Full suite of functionalities to complement your cash register operations
Servers Module: Increase Productivity
Server file maintenance
Multilevel password protection (allows you to monitor your critical activities such as refund, access denied, and others)
Servers can be assigned to tables beforehand or 'on the fly' when opening a table
Tip tracking
Server time card tracking support
Enforce server clock in with easy to use scheduling functionality
Popup clock out reminder
Server Bank support (allow each employee be their own cashier, then turn all their money owed to the restaurant at the end of their shift)
Easy to read shift end report
Inventory Control: Cut Restaurant Losses
Inventory item maintenance
Food distributor maintenance
Food costing modules
Menu item recipe definition
Physical inventory count capability
Inventory depletion based on sales
Predictive ordering
Tracking of inventory level falling below pre-defined threshold
Food cost & profitablity review report
Other inventory & food costing report.
Employee Payroll Module: Integrated Time & Attendance
Complete labor scheduling capabilities
Daily labor cards for employee time reporting
Time card correction
Employee availability tracking
Multiple job categories/rates
Payroll preparation report and audit functions
Manual payroll check entry
Auto deductions
Calculates regular hours and over time hours
Spend less time doing payroll now
Information Module: Know more about your restaurant and be more competitive
Detailed sales history (as many years as computer disk capacity allows)
Detailed void reporting
Sales and tip reporting by server
Ability to recall reports from any given day
Cash drawer balancing and sales analysis by shift, by cashier, by register, by hour, and by day
Know what menu item is selling & what is not
Detailed profit and loss reporting
Menu items, customers and sales data may be imported into Excel, Ms Access, Dbase, Lotus, etc.
Ability to export any report to text file for further processing
Backup files can be used as a bridge between the point of sale system and the home office accounting system
Numerous Back Office reports to present your overall restaurant operation results.
Misc. Features:
100% graphical operated Point of Sale
100% 32-bit Windows based (runs on Windows 95, 98, 98SE, ME, NT 4, W2K, XP, Vista and Windows 7)
Your wait staff do not need prior computer knowledge
Easy pull down menus
Fast and easy lookups
Printer redirection
Built-in backup and restore functions
Compact database support directly from software
Automatic database repair capability
Support for various Point of Sale peripherals (Point of Sale printers ,cash drawers, etc.)
Peer to peer Windows networking support (saves you the cost of expensive dedicated database server and the server operating system)
Multilingual capabilities: The program's main menu options can be displayed in English, Italian, German, Dutch, Portuguese, Danish, Icelandic, Albanian, Chinese, Spanish or French with the click of a button
Separate free utility (Multi POS Database Functions) to allow you to purge test orders from the sales database
RELATED SOFTWARE DOWNLOADS FOR Multi Pos for Restaurant