MobiSystems Diets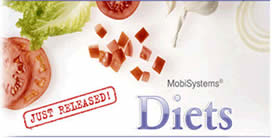 MobiSystems Diets is specially designed to facilitate your dieting and life-style needs on the go. Do you need to lose weight, get in shape, or simply watch what you eat? MobiSystems Diets enables you to set up a weight loss program and begin the journey towards the body you want. Body shaping requires diet and exercise. With MobiSystems.

Diets you can easily get and stay on track:
Personalized weight loss program setting Daily meals recording Fitness program and daily activity tracking Calorie and fats input monitoring Carbohydrates and proteins tracking Predefined database of over 4,500 food items maintained in 48 categories

The program can also be used as a reference tool for the nutrient content of foods and help users in making knowledgeable decisions what to eat. Diets comes with an extensive editable foods base of over 6,500 items categorized in 24 basic groups. For each food item is kept information about the calorie, fats, proteins, carbohydrates and fiber.

Diets 5 are empowered with the National Nutrient Database for Standard Reference, release 17 that is developed by the Nutrient Data Laboratory (NDL) of the U.S. Department of Agriculture, Agricultural Research Service. The NDL and its predecessor organizations in USDA have been compiling and developing food composition databases for over a century. NDL has an interdisciplinary staff composed of nutritionists, dietitians, food technologists, and computer specialists.

Software Information
System Requirements
Version:
2.00

Windows 8/7/XP/Vista
Pentium II CPU
512 MB RAM

License:
Free to try, $14.99 to buy
Rating :
Will Help You to Get and Stay on Track:
Set Personal Profile
Input your personal information - height, weight, age, and gender. MobiSystems Diet will automatically calculate the calories you burn during the day.

Establish a Weight Loss Goal
Set a weight loss or gain goal by specifying aimed weight and target date. Now you are ready to start monitoring your progress with charts and graphs.

Keep Track of Your Meals
Record everything you eat. With MobiSystems Diet you will always know where you stand and have nutritional information of the foods you have eaten for the day according to the set weight loss program.

Record Daily Sports and Activities
Track your exercise by selecting an activity from a large exercise database. Input the minutes spent exercising and the software will automatically calculate the calories you burned and update your daily diet schedule accordingly.

Extensive Food Database
The huge food library of 4,500+ food items is organized in 48 categories, including fast food and national cuisine. Configurable foods database - you can add, delete, or modify the food items and their nutritional contents -calories, carbohydrates, saturated fats and proteins.

Monitor Your Progress
Make regular check-ins to track your weight. Input body measurements and watch your body shape improve as you reach your weight loss goals. You will love our graph feature.