MCFX Pro - monthly lease plan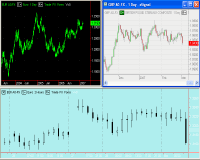 MCFX is specifically designed for Forex strategy trading.
MCFX combines simplicity of use with rich functionality at a price affordable as never before in traditional FOREX programs. If you are a beginner, you'll be off working with just a few clicks, with everything readily accessible and with no special training required. If you're an experienced trader, the program is up to professional demands: user-friendly charting with high-end capabilities, 4 years' worth of free data in various resolutions for 24 currency pairs, 24/7 access to data servers, thousands of ready indicators and support for writing your own trading system, and Forex trading strategy optimization and back-testing. High performance and reliability consistently bring MCFX to the top of the Forex trading software.
For your convenience MCFX is shipped in two versions with different functionality and price. The functional difference between MCFX Basic and MCFX Pro is the ability to write your own custom indicators in an EasyLanguage-compatible environment. T he Basic version provides a standard set of built-in indicators, while in the Pro version thousands of existing EasyLanguage studies are at your disposal for direct use or modification.




Software Information
System Requirements
Version:
1.4.1568.400

Windows NT, 2000, XP, XP x64, Vista
2 GHz Pentium 4 or compatible
512 MB RAM
1 GB available disk space
Microsoft Internet Explorer 6.0

License:
Free to try, $199.00 to buy
File Size:
28.0 MB
Screenshot :
View Screenshot
Rating :
Key Features for MCFX Pro - monthly lease plan:
Interactivity
The charts, indicators, scales, the background and status bar - all those objects have relevant options accessible for mouse and keyboard control. Just click once on the desired object to fine-tune the workspace. All movable objects can be Drag & Dropped. This ideology makes work highly productive and convenient.
Using several of charts in the same chart window
Other programs allow analyzing one chart per screen. Now you can use several in a single chart window. This is invaluable for correlation or inter-market analysis.
Displaying data in any format
The most often used types of charts, including bars, japanese candlesticks, lines, points, histograms, invisible bars, etc. are for your choosing.
Combination of different time frames data
Use any degree of precision in your studies - combine minute, hour and day data in one workspace. All the data will be strictly ordered to one time axis, providing additional analysis features.
Extended features of axis
The scales have broad display options. They may be presented as linear or semi-logarithmic, especially useful for drastic price movements. The scales may be displayed on both sides, i.e. with indicator on one side of the axis and price data on the other. The scales allow data to be displayed data for the entire period, only for the displayed values, or in set ranges.
A multitude of analysis techniques with flexible settings
Over 50 in-built indicators, analysis and drawing tools. The techniques can be presented as lines, histograms, points, columns, crosses and other primitives. All display parameters of the indicators may be modified to the user's needs.
Workspace settings functions
Almost all visual parameters can be tuned. The user has control of the fonts, line type and thickness, colors, scales, all the elements of the status line, the background, grid, chart components. The time and numeric scales reflect the regional settings of the computer, so they are also set by user preference.
Data displaying in any degree of detail
Displaying data in any degree of detail: ticks, second bars, minutes, hours, days, weeks and months. Any integer (i.e. 2 days) can serve as the interval.
Unlimited amount of loaded data
The user is no longer limited by a small amount of data. The program handles thousands of bars, especially important for serious testing of trading systems.
Data stream overlaying
The program allows assets to be superimposed, which is invaluable for comparing the dynamics of several securities. Besides assets, any indicators or analysis techniques may be superimposed.
RELATED SOFTWARE DOWNLOADS FOR MCFX PRO - MONTHLY LEASE PLAN