MailWasher Pro
Stop spam and unwanted email with MailWasher Pro. It's easy to use and effective. Over 7 million downloads!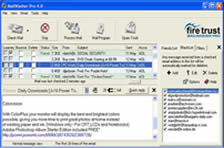 MailWasher Pro is an effective anti-spam software and email management tool to Delete spam, viruses and unwanted emails right at the server. Easy to use and very effective, MailWasher Pro allows you to preview and delete your unwanted email from an unlimited number of accounts in one simple step, before it reaches your inbox. Whether you have a POP3 account, MSN and Hotmail, IMAP or AOL; whether you are a home user or small business, MailWasher Pro is right for you.

Other features are comprehensive customizable filters, use of public blacklists to identify spammers, multiple accounts, and much more. MailWasher Pro is compatible with POP3/Hotmail/MSN/AOL/IMAP. MailWasher Pro Version 5.1 includes a greatly enhanced spam filtering engine and Unicode support.


Software Information
System Requirements
Version:
5.3

Windows 9x, NT 4, ME, 2000 or XP
Pentium II CPU
64 MB RAM

File Size:
3.34 MB
License:
Free to try, $37.00 to buy
Rating :
Benefits of MailWasher Pro :
Stop spam, viruses and phishing emails so they never get to your inbox.
View email on the server before it gets to your computer. Never lose an important email!
Save time by only getting the mail you want.
Dynamic antispam filter updates so you always have the latest spam fighting technology.
MailWasher Pro Saver You Time :
View your email before it gets to your computer - now you can see what email is waiting for you so you can deal to it effectively.
Simple Set Up. Wizards prompt you for email account information so set up takes little more than a few seconds to complete.
FirstAlert!™ MailWasher® takes spam fighting a big step further with real-time span filter updates via our unique FirstAlert!™ system, so you always have the latest and greatest protection from spammers. When you check your email with MailWasher® Pro, FirstAlert! trains the filters in MailWasher® Pro against the latest spam threats so you're always up-to-date. Your first year's subscription to FirstAlert! is inlcuded in the purchase price of MailWasher® Pro!
Delete unwanted email before you download them. A great way to stop viruses or large attachments.
Status. MailWasher® Pro software analyzes each email as it arrives and warns you if it is suspected junk mail using fuzzy logic and filtering.
Friends List. Add your friends email addresses to MailWasher® Pro's friends list so their mail is always recognized.
Custom Filters. MailWasher® Pro software effectively filters to automatically spot spam, plus uses a customizable list of blacklisted email senders and/or regular expressions to filter out potential spammer addresses and messages.
Learning Filters. Learn from the spam and good email you receive to deliver you a robust and efficient approach to solving your spam problem.
Heuristic Virus Scanning. MailWasher Pro blocks potential viruses by examining each email for any code it thinks is suspicious and could indicate a virus.
Block Known Origins of Spam. MailWasher® Pro allows you to check the origin of the email received against DNS spam blacklist servers.
Quick Reply. Now you can launch a 'new email' to make quick replies to emails from the MailWasher® Pro grid.
Restore Deleted Email. Now you can rescue accidentlly deleted emails.
Bounce back unwanted email to the spammer so it looks as if your email address is not valid.
Unlimited email accounts. You can have as many email accounts as you want to check. Support for POP3, AOL, Hotmail & MSN and IMAP.
Email Overlay. New messages will come in and will reside in the screen until processed.
Fast download of headers using simultaneous checking, we have clocked speeds of 25 email messages per second.
Simplicity. No flashy gimmicks, so easy to use that you won't feel like you have to learn a whole new program. In fact it has the familiar look and feel of Outlook Express. It's as easy as 1, 2, 3. Just check mail, mark for deletion/report/bounce, then process mail.
Comprehensive help and frequently asked questions. A tutorial and animated tutorial are also included.
Works with your existing email program, whether it is Outlook, Eudora, Netscape or any other program.
Multiple platforms, runs on Windows 95, 98, Me, NT, 2000 and XP.
Support via email and upgrades so you stay up-to-date with the latest version.
How does MailWasher® Pro work?

MailWasher® Pro works directly with your email server, exactly like your email program does. But there is one important difference; you can tell MailWasher® Pro to delete a message at the server, without downloading it - or you can bounce an email back to the sender so that it looks as though your address is not valid.

MailWasher® Pro retrieves information about all the email on the server. With that information (some of which is also processed by MailWasher Pro) you can decide what to do with each individual email - download, delete, report or bounce it back. If you check your accounts with MailWasher Pro first, you can delete or bounce the email you do not want. Then, when you use your email program, it downloads only the remaining emails, those that you want to read.

MailWasher® Pro can be thought of as a "first line of defense" which can weed out junk, large wasteful attachments, and potentially harmful viruses.


How do I start using MailWasher® Pro?

To begin using MailWasher® Pro, here's all you need to do.

Run the setup file after you have downloaded it. When you have installed MailWasher® Pro and run it for the first time, it will prompt you for your account information so you can access your email information. Enter your email details into MailWasher® Pro.

To check email, don't open your email client first. Instead, just start MailWasher® Pro by double clicking on the desktop icon, or by going to Start menu, Programs, then MailWasher®/MailWasher® Pro.

MailWasher® pro will then start and pressing 'Check Mail' will tell you what messages you have waiting for you on the email server. In the check boxes, select whether to Delete, Report or Bounce the messages (if nothing is checked, the email will simply be downloaded to your email client as normal), and then select process mail. Processing mail will delete or bounce the email you have selected. Your email client will open and you can download the remaining emails as you normally do.