MagicScore Maestro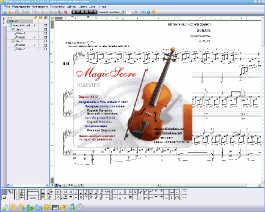 MagicScore Maestro is a very convenient and efficient music notation software for musicians with extended editing capabilities and internal spell-checker. It features a variety of input methods - virtual keyboard, external MIDI devices, or an extended set of musical note symbols. The program comes with a virtual piano and virtual fingerboard for six and seven-string guitars. The built-in notes play-back feature allows users to listen to the newly created piece of music as if performed by a single instrument or by an entire orchestra.
Importantly, MagicScore Maestro makes editing notes easy with tools that let musicians copy, paste, delete, and transpose both single notes and selected note blocks. Drag'n'drop feature is available as well. Conveniently, the program permits creating custom symbols, terms and chords for complex compositions with peculiar or non-standard grammatical solutions. There is an entire set of functions that simplify musicians work packed inside the program, like the adjustment of volume, balance, and effects for each track, and the capability to bind comments, links, and otherappearance elements to all score elements.
Moreover, the program can read/write data to/from MIDI and save data in various formats, including graphic files (BMP, JPEG, GIF, WMF) that are easy to print out. Other helpful features include customized texts orientation options, notes volume and effect play-back calculations, and a capability to stop executing any operation any time. The program has been used extensively by amateur and professional musician and education institutions, and got excellent reviews for its simplicity and rich set of time-saving features. The program also supports Music XML format.
With MagicScore Maestro music notation software you can create magnificent compositions; that will give you the opportunity to have your work done in the best possible manner.




Software Information
System Requirements
Version:
7.03

Windows 8/7/XP/Vista
500 MHz processor
512 MB RAM
No hardware acceleration is required

License:
Free to try, $79.95 to buy
File Size:
15.8 MB
Screenshot :
View Screenshot
Rating :
The basic features of the Maestro music notation software are as follows:
Automatic spell-checking of entered information;
Extensive editing capabilities (copy, paste, delete, transpose both single notes and selected blocks);
Capability to bind comments, links, and other appearance elements to all score elements;
Adjustment of volume, balance, and effects for each track (of an instrument's score);
Reading from MIDI files and writing to MIDI files;
Play-back of the entered notes both by a single instrument and by the entire orchestra;
Printing scores, including previewing the scores;
Note entry using the virtual piano;
Score entry using the Chord Builder;
Drag & Drop support;
Capability to cancel the running operation;
Score recording from a MIDI device.
Extended functional capabilities of the Maestro music notation software:
Export of images to graphic files (BMP, JPEG, GIF);
New MagicScore Maestro 5 Music Notation Software with NEW MagicScore Music Engine III.
Calculation of notes volume - based on the dynamic symbols placed on the staff;
Calculation of the effects play-back (Arpeggio, Gruppetto, Vorschlag, Trillare) ?based on the staff's symbols;
Control of texts orientation on the page (the text may be displayed at any angle);
Real-time notes play-back editor for changing the position and the duration of notes right during the play-back;
Saving of chord patterns for further use in the program or in an external file;
Extendable list of musical terms;
Chord entry via the virtual guitar finger-board;
Selection of additional styles for displaying notes
RELATED SOFTWARE DOWNLOADS FOR MAGICSCORE MAESTRO