Mac Cleanse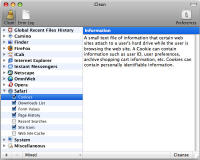 Most of us know the pain of using a shared computer. Privacy is a valued commodity in today's world, and maintaining it does not have to be a hassle. Mac Cleanse securely scans your system for activity and erases the desired information.
Sure, you could go rummaging through your entire system trying to manually clean out your files, but what if you miss something? What if you accidentally delete a crucial file and lose important data? Don't take the risk. Let Mac Cleanse carefully and precisely scan and incinerate only what you choose.
Wether you've been gift shopping online, discussing confidential business matters, visiting inappropriate web sites, or just want to clean out your system, Mac Cleanse is your savior. Unlike some other privacy protection tools which go through your system with brute force, Mac Cleanse has been thoroughly tested and only removes the necessary files, and reports all errors.
Software Information
Technical Requirements
Version:
1.1

Mac OS X 10.4 - 10.8 or higher
512 MB RAM or More

License:
Free to try, $19.95 to buy
Download Size:
5.16 MB
Screenshot :
View Screenshot
Rating :
Key Features of Mac Cleanse:
Cleans the Navigation Services:
Last Current Directory
Last Root Directory
Recent Documents
Recent Folders
Recent Places
Cleans the Finder:
Last Go to Folder
Recent Applications
Recent Documents
Recent Folders
Recent Servers
Last Connect URL
Cleans the System:
All Computer Caches
All System Caches
All Crash Reporter Logs
All Current User Logs
Apple File Service Logs
Console Logs
Crash Reporter Logs
Cron Logs
CUPS Access Logs
CUPS Error Logs
Fax Logs
FTP Logs
Install Logs
IPFW Logs
Lookupd Logs
LPR Logs
Mail Logs
NetInfo Logs
PPP Logs
Samba Logs
Security Server Logs
Software Update Logs
System Logs
Web Server Access Logs
Web Server Error Logs
Window Server Logs
Archived Logs
Cleans so much more!
Acquisition Blacklist
Acquisition Download Cache
Acquisition Inquisitor History
Acquisition Recent Searches
Bit Torrent Open Torrents
Disk Utility Recent Disk Images
Frogblast News History
Ircle Cookies
Ircle Faces
iTunes Recent Databases
iPhoto Recent Databases
Konfabulator Recent Widgets
Limewire Incomplete Downloads
MPlayer Playlist
MS Office Font Cache
MS Office Registration Cache
Preview Bookmarks
QuickTime Recent Files
Temporary Files
Trash
Unison Group Preferences
Unison Newsgroup Cache
User Cache
User Clipboard
VideoLANClient Cache
Xtorrent Settings
Cleans Camino:
Cookies
Download List
Page History
Site Icons
Web Site Cache
Cleans FireFox:
Cookies
Downloads List
Form Values
Page History
Web Site Cache
Cleans iCab:
Cookies
Downloads List
Page History
Web Site Cache
Cleans Internet Explorer:
Downloads List
Downloads Cache
Page History
Temporary Files
Web Site Cache
Cleans Instant Messengers:
Adium Chat History
Adium Contact Details
Adium Contact List Cache
AIM Buddy Cache
AIM Cache
AIM Chat History
AIM Icon Cache
ICQ Logs
ICQ Chat History
Fire Chat History
iChat History
MSN Messenger Chat History
MSN Messenger User Cache
Proteus Chat History
Skype Chat History
Cleans Netscape:
Cookies
Downloads List
Page History
Web Site Cache
Cleans OmniWeb:
Cookies
Downloads List
Page History
Web Site Cache
Cleans Opera:
Cookies
Downloads List
Page History
Site Icons
Web Site Cache
Cleans Safari:
Cookies
Downloads List
Form Values
Page History
Recent Searches
Site Icons
Web Site Cache
RELATED SOFTWARE DOWNLOADS FOR MAC CLEANSE