Kylix SMS Server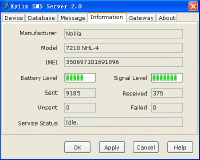 Kylix SMS Server is a SMS serving software specially designed to add SMS functions to other software products. With this software, you can easily incorporate the SMS functions into your software. There is absolutely no need for you to understand the principal of SMS, the development of SMS hardware equipment, the complicated AT command set and protocols, the encoding rules of PDU and Unicode, the similarity and difference of every model of hardware equipment, your original software structure (whether B/S or C/S), the development environment of your original software (whether Java, PHP, VC or Delphi), and the operating system of your server (whether Windows or Linux).
All you need to do is install Kylix SMS Server onto your software system, connect a GSM device to a serial port of your PC that can attach the database, and run this software after configuring several simple parameters. It only costs you 10 minutes to supply your software with SMS-based communication functions, which will make your whole system communicate in a more quick and effective way, thus add a shining point to your software products.




Software Information
System Requirements
Version:
2.1

Windows98/2000/NT/ME/XP/Vista
Pentium II CPU
256 MB RAM

License:
Free to try, $129.00 to buy
File Size:
768 KB
Screenshot :
View Screenshot
Rating :
Key Features of Kylix SMS ActiveX Component:
Kylix SMS Server is especially designed for adding SMS functions into your software product quickly and effectively. This software uses the method of polling the SMSOut table in the database, and then encodes the messages need to be sent based on SMS format of GSM network, and send the encoded message to GSM Network with mobile phone or GSM Modem. After the message is successfully sent, the software will mark the message in the database as Already Sent. After the recipient receives the message and answers it, the software will insert the answered message into the SMSIn table of the database. Once finish inserting action, it will delete the message in the mobile phone or GSM Modem. When you need to send message with your software, you only need to insert the message and the recipient mobile phone number into the SMSOut table of the database, and then the message will be sent out very soon. If you want to work with the message answered by the recipient, you only need to handle the newly received message in the SMSIn table of the database.
Kylix SMS Server acquire good compatibility through connecting to database with ADO, it can work with various kinds of databases such as MS Access, MS SQL Server, Oracle, MySQL and PostgreSQL etc. The database may running with Windows, Linux or other operating systems. As long as you have one client or server PC running Windows with your software, you can install the GSM device on that PC, and run this software on it as a SMS server for your system.
Kylix SMS Server is able to encode the sent message with PDU format of GSM network, and it will automatically detect the language used by the sent message, and handle the message with GSM 7Bits, ASCII or Unicode. It supports both single-byte language and multi-bytes language (e.g. Chinese). For long message, it can be sent in long message mode or split messages mode. You can also set the SMS center number. The software can dynamically display the status of the hardware, such as Sending, Receiving and Idle, and automatically retry for failed outgoing message. All process will have detailed log, enables you to retrieve received, unsent, sent and failed messages for statistic or checking purpose.
Kylix SMS Server supports various brands of GSM mobile phones such as Nokia, Siemens, Sony-Ericsson as well as several models of GSM Modems, such as Wavecom, Siemens, Motorola and Ericsson etc. This software is able to automatically identify the brand and model of the hardware, and use optimum parameters accordingly. It can read information about hardware including brand, model, IMEI, Battery Level and Signal Quality etc. This software also supports PIN function.
Kylix SMS Server provides with full log and warning mechanism. It will save the system-running status of software and hardware into a log file, the size of it has been restricted, so you don't have to worry that it will occupy too much hard disk space. You can use SMS message to report system-running status on a daily basis, such as the number of sent messages, received messages, unsent messages, and hardware equipment, database connection status etc. Meanwhile, the administrator can also send SMS message to get the current system-running status. SMS warning functions can also monitor running status of the database in almost real time, when the hardware or network fails and causes database disconnected, Kylix SMS Server can immediately send warning message to specified mobile phone, get administrator to handle the problem as soon as possible. When using GSM mobile phone as SMS hardware equipment, you can set the software to send a SMS message promptly to the specified phone number when the battery level is low, to remind administrator to charge the mobile phone in time, which can avoid the system down caused by low-battery off of the mobile phone.
As you can see from the above features that, Kylix SMS Server not only helps you easily incorporate the SMS functions into your software product, but also provide your system with more Running Status Reports at a speed faster than ever before, which will facilitate the maintenance of your system, reduce the maintenance cost and improve the maintenance efficiency.
Kylix SMS Server can work as an external optional module of your software product, beside that, you can also include this software as part of your software, install it along with your system. You can even choose to "OEM" this software as your company name, making it an integrated part of your product.
RELATED SOFTWARE DOWNLOADS FOR KYLIX SMS SERVER