Kaspersky Anti-Virus 2009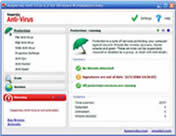 Kaspersky Anti-Virus 2009 - Award-winning antivirus software protects your PC from viruses, Trojans, spyware, rootkits and other malicious programs. Additionally, Kaspersky Anti-Virus keeps your email and instant messages safe from dangerous worms. Reactive detection methods are combined with the newest proactive technologies to provide balanced and effective security, while automatic updates ensure uninterrupted protection and peace of mind.

Beginners in particular will be pleasantly surprised to find a product that is simple to install and set up, while more advanced users will find a highly adaptable product that can be easily tailored to suit their individual requirements.




Software Information
System Requirements
Version:
8.0.0.454

Windows 98, NT, 2000, ME, XP, 2003, Vista
50 MB available HDD space
Intel Pentium 133 MHz or higher

File Size:
32.49 MB
License:
Free to try, $35.96 to buy
Screenshot:
View Screenshot
Rating :
New Capabilities :
On-the-fly scanning of emails & Internet traffic
Proactive defense against new malicious programs
Optimized antivirus scanning
Protection from rootkits
Instant database updates
Simplicity and ease of use
Kaspersky AntiVirus Features:
1. Antivirus protection
Protection for email. Kaspersky AntiVirus 6.0 scans email traffic for viruses according to the protocol via which it is sent (POP3, IMAP and NNTP for incoming mail and SMTP for outgoing mail) on any mail program, while plug-ins and treatment for viruses in Microsoft Outlook and Microsoft Outlook Express mail databases are offered.
Scanning of Internet traffic. All HTTP Internet traffic is scanned for viruses in real-time, ensuring that infected objects are not saved to the computer's hard disk.
Protection for file systems. Individual files, catalogues and disks can be designated for antivirus scanning. Users can limit antivirus scanning to critical areas of the operating system and startup objects to ensure that attention is focused on the most vulnerable areas of the system.
2. Proactive protection
Control over changes in the file system. With Kaspersky Anti-Virus 6.0 it is possible to compile lists of applications, the component structure of which will be controlled, thus helping to prevent malicious programs from undermining the integrity of the application.
Monitors processes in the memory. The product monitors the activity of programs and processes that have been launched in the computer's memory and, at the same time, warns users of any dangerous, suspicious or hidden processes (that is, rootkits), and of unauthorized changes in routine processes.
Monitors changes in the operating system registry. The application controls the status of the system registry and notifies users of any suspicious objects or attempts to create hidden keys in the registry.
Blocks dangerous macros. Proactive protection affords control over the operation of macros based on Visual Basic for Applications in Microsoft Office documents and blocks dangerous macro-commands from being executed.
System restore. The system can be restored after malicious activity. Kaspersky Anti-Virus 6.0 can roll back any changes made to the system by malicious programs.
3. Fast operating speeds
Technology for accelerated antivirus scanning. iSwift and iChecker technology make it possible to limit scanning to new and modified files, or to limit scanning to potentially dangerous objects only. Antivirus scanning can be suspended during times of increased user activity to ensure that your computer's resources are free for your use.
Reduced update sizes. The size of updates downloaded to users'PC has been reduced almost 10 times (now amounting to several tens of kilobytes) in Kaspersky AntiVirus 6.0, making our updates virtually instant.