K7 TotalSecurity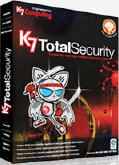 K7 TotalSecurity - Internet Security Suite for Windows from K7 Computing.
K7 TotalSecurity is the fastest way to make sure that your PC is completely protected from virus threats, spyware and hackers. K7 TotalSecurity is an antivirus, anti- spam software which has functions of spyware and adware protection, Key-logger & root-kit detection, Firewall, Privacy protection and System monitor.
To protect your system in the best possible way, K7 TotalSecurity adopts a six-plan approach for monitoring, identifying and preventing any malicious attacks from affecting your PC. Not only does this ensure that your PC is protected from any existing security threats, but proactive system scanning ensures that you are also protected from any future viruses, Trojans, worms or other forms of malware.




Software Information
System Requirements
Version:
10.0

Windows 2000/XP SP2/Vista/7
512MB RAM
60 MB Hard Disk

License:
Free to try, $76.06 to buy
File Size:
41.1 MB
Screenshot :
View Screenshot
Rating :
Main Features of K7 TotalSecurity:
Antivirus software
Antivirus software scans your PC for any suspicious or malicious files currently on your system. Frequent updates and customer support also ensure that you are protected against any future security threats as soon as they become known.
Anti-spam software
K7 TotalSecurity 10.0 protects you from the security threats posed by unsolicited 'spam' emails. Our comprehensive anti-spam filter ensures that you get the best possible protection from e-mail borne malware.
Spyware and adware protection
Protection against spyware and adware is now an essential tool in ensuring your online privacy and security. Spyware and malicious forms of adware can potentially record details of your computer usage and pass this data on to third parties – this can include credit card numbers or other personal and confidential details.
Firewall K7
TotalSecurity features firewall software which prevents any unauthorized traffic from attacking your internet-connected PC, effectively rendering your PC as invisible to hackers and anyone looking to intercept any data which you transmit or receive online.
Privacy Protection
Privacy protection safeguards your family from unwanted or unsuitable websites, meaning that you have full control over what your children see and do online. K7 TotalSecurity also ensures that your personal details are fully protected; preventing any unauthorized use of your personal details and credit and debit cards.
System monitor
System monitor is a feature that will prevent any unauthorized changes to system security settings. This feature will run discreetly without adversely affecting your PC's performance.These key features combine to provide you with a comprehensive security solution for your home or business PC system, protecting you from the diverse range of increasingly sophisticated security threats which can affect even the most experienced users.
Backed up by a virus database that is constantly updated, a customer support section containing a wealth of technical support and the endorsement of leading brands in the technology industry, K7 TotalSecurity 10.0 provides the highest possible level of protection for your PC.
Generic root kit scanning
A root kit is a hacker tool that captures passwords and other confidential information when there is a flow of messages from one computer to another. The root-kit provides a backdoor for the hackers to enter into the system with the captured data. K7 TotalSecurity's advanced root-kit scanning ensures that no data is captured when there is inflow or outflow of traffic over the internet.
Scanning for tracking cookies
Tracking cookies may be small images or text which records the browsing habits. These tracking cookies are scanned and disabled automatically.
Malware trace remover
After scanning and quarantining the malware, K7 TotalSecurity ensures that there were no malware trace in the user's PC.
Protection from phishing attacks
Malicious websites are blocked automatically and identity theft is protected.
Detect Internet (DNS) Hijacking
A process in which an identity thief gains access into the domain name server and tries to the take control of a website by modifying the registrant information. K7 TotalSecurity with its advanced firewall protects access to any unknown network and prevents un-authorized data transfers.
Smart updater
A unique feature, which increases efficiency and save time while running updates. If you run updates for K7 TotalSecurity and your internet connection is unexpectedly lost, your software update will recommence from the place it stopped, meaning that you don't have to run the updates again from the beginning.
Support for Bluetooth devices
Enhanced heuristic based scanning
Detection of obfuscated Java Scripts (Drive by downloads)
Synchronizing of Windows Mobile devices
Enhanced support for multi-core systems
RELATED SOFTWARE DOWNLOADS FOR K7 TOTALSECURITY