Job Designer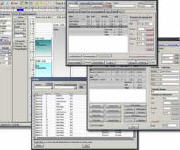 Job Schedule your rooms, employees and equipment - and have a simple solution to generate quotes, invoices and reports at the same time, all from within Job Designer.
Designer scheduling software makes all of this possible, utilizing an easy to use graphical interface.
Using Job Designer will allow you to easily streamline your workflow, and improve service to your clients by taking care of the entire scheduling and billing process. Features include full invoicing and reporting, conflict checking and much more....
Installing Job Designer is straightforward, and is completed in a couple of minutes, even on a network!





Software Information
System Requirements
Version:
2.9.8.9

Windows 98/2000/XP/NT/ME/Vista
Pentium II CPU
256 MB of RAM

License:
Free to try, $129.00 to buy
File Size:
4.26 MB
Screenshot :
View Screenshot
Rating :
Key Features of Job Designer:
Network enabled multi-resource scheduling
Scheduling is simplified with the side-by-side room, employee and equipment layout, making it possible to see available times and current entries/conflicts at a glance. Creating a job is easily done by simply dragging from start to end times, right-clicking, and selecting a client. Once a job is created, link multiple tasks and equipment, both with different time slots, contacts (employees), stock and other items from the existing database. Jobs are color-coded by status (First Hold, Second Hold, Third Hold, Confirmed, Completed, Cancelled) .
Automatically upload schedules
Schedules can automatically be generated and uploaded to your Web Site with the built-in FTP client. The schedules uploaded are determined by pre-defined time ranges and export-settings.
Multi-resource conflict checking.
The scheduler will automatically notify you of conflicts on all contacts and equipment linked to your jobs across the entire day.
Email notification of schedules and schedule changes.
Click on the 'Send Email' button to notify employees as well as clients of new bookings and schedule changes. When changing a Job's status type, eg. to cancelled, Job Designer will automatically inquire whether to send notifications to clients/employees.
Projects (Job Grouping).
Jobs can be grouped into projects. This allows for project cost tracking at any time (running totals), as well as invoices and job cards printable per project. It is also possible to generate quotes based on projects. The quotes are then integrated with the project, making it possible to see budget overruns at a glance.
Client preferences
Job Designer "remembers" preferred rooms, staff, equipment etc. so that when a booking is created, the user will have the option to link the preferred items to the job by default.
Various printable views .
Job Designer offers multiple viewing options. Day/Week view, the normal scheduling views, where bookings are made and edited. The list view shows job for any time period in a text form with the ability to move to, and open a listed job by double clicking. This view also provides filtering, and other features. Finally the month view, displaying jobs in a calender-type form. In addition to this, employees(contacts), and equipment is displayed on individual scheduler windows, providing an easy way to visibly determine equipment and employee availability.
Import/Export features.
Clients and contacts can be imported or exported to the universal csv format. this format is supported by most other programs. Financial reports can also be exported to csv files for further processing.
Recurring jobs.
Recurring jobs can be altered separately for more control, or as a single job group.
Templates.
Save time by turning complex jobs with multiple items into Template Jobs. Use these template jobs to book 'copies' of the original job. All items linked t o the original job, will now also be linked to the new job.
Instant job costing.
Once a job is created. simply click on the finance section and see cost information for the job. Easily override figures for once-off charges. If a job is linked to a project, a running cost is visible at all times in the project tab, thus preventing budget-overruns. From here, click on the print costing or generate invoice button and that's it, done! Invoices can also be generated for the entire month, or per project.
Quotes.
Quotes can be generated by using the project quote feature. Add any item from the existing database, as well as new items by simply selecting from a list. The costs, quantities and discounts off all items can be 'overridden' at this point to suite the quote without affecting the actual database items. Quotes can be copied, making it unnecessary to regenerate complicated project based quotes every time. Once client approval is received, generate a project linked to the quote. A running cost will be auto matically kept for comparing the budget values(quoted) to the actual project totals.
Highly configurable invoicing.
Once a job is created. simply click on the finance section and see cost information for the job. From here, click on the print costing or generate invoice button and that's it, done! All figures are calculated automatically taking into account overtime rates, special rates for clients, discounts etc. Come end-of-month, simply select the client to invoice and the period for which to invoice, and sit back while Job Designer prints out professional looking customizable invoices. Jobs can also be grouped together and invoiced separately (project based invoicing). Job Designer will keep track of payments made against invoices. Month-end statements can also be generated.
Custom Document layouts.
Design custom document lay outs in any RTF (Rich text)-compatible word processor package(most popular word processors are), enabling you to add logos or additional text to your invoices, job cards etc. This also allows you to make additional changes once the document has been generated and saved.
User-definable reports that can be created on all items as well as detailed financial reports.
Generate detailed customized reports on all items. Reports can be generated for any combination of up to seven fields per item. Need to find out how much revenue your rooms, employees or equipment is generating? Simple: use the sales by item report! Since all items including employees are linked to jobs, reports on hours worked by employees or equipment usage can easily be generated. All reports can be exported for further processing. Also print financial reports on invoices, balances, payment and credits.
Organize your contacts, stock and equipment
Add phone numbers, addresses, web addresses and notes etc. to contacts, and arrange them into categories for quick retrieval. Double-click to add a contact to a job (if set to "Bookable"). The same applies to equipment as well as stock items. Extra definable fields are available to keep track of service histories, suppliers, etc.
Automatic stock counting.
Stock is counted automatically when added or removed from jobs. This means that you will always know when to re-order and avoid running out of supply. Use this in conjunction with the reporting functions to find out exactly the amount of stock used and by whom.
Security
Protect your data by allowing different users access to different sections of Job Designer. Users are prohibited from unauthorized access by means of passwords.
Networking
Job Designer can be used on a network to enable all users to 'see' the same data at all times. Changes made anywhere on the network will be updated immediately. This enables multiple users to work on the same data, some performing scheduling tasks, while others handle billing and reports for example.
RELATED SOFTWARE DOWNLOADS FOR JOB DESIGNER