IPI.HELPDESK Standart Edition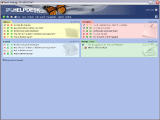 Web requests management system
Do you have a web site and customers?
Great! IPI.HELPDESK will help you to communicate efficiently with your customers through your web site.

IPI.HELPDESK™ provides two-way communication with users in a simple and intuitive interface, ensuring full control and transparency of this process..





Software Information
System Requirements
Version:
1.21

Server system: Windows Server 2003 or Unix of any version
Web server Microsoft IIS version 6.0 or later, or Apache™ version 1.3 or later
Operating system: Windows , including Windows CE and Windows Tablet PC Edition, or any Linux system
Server languages (all required): PHP, Perl (CGI), SSI

File Size:
1.55 MB
License:
Free to try, $99.95 to buy
Screenshot:
View Screenshot
Rating :
External user features:
Self-registration using a simple form.
Self-editing of personal registration data.
Log in to the «Personal Office» using your login and password, or by clicking the link in the e-mail notification without entering your login and password.
In the «Personal Office», the user can view his or her own queries, task history and manager replies, create new tasks, read the FAQ and more.
Comprehensive online assistance and a simple intuitive interface make working with the system easy even for a user without specific knowledge.
Due to e-mail notifications, the user is always kept informed about the progress of his or her queries.
Rating the work of managers: the user can rate any manager's response.
Manager features:
Detailed discussion of the task while preserving the history of correspondence and discussions.
Option of replying to a task in private mode, without showing the answer to the customer.
Option of delegating tasks to any performer with the history preserved.
Attaching files to tasks.
Replying to tasks using standard answers from the FAQ.
emiautomatic additions to the FAQ when you are working with tasks.
Specifying task priority and urgency.
Grouping tasks by section and subject.
Tracking of task due dates, reminders about expired tasks, notification of expiration.
Advanced search and extended filter to select tasks by any parameter defined in the system.
Printing a task summary or task selection in a ready-for-printer format
Executive features:
Notification of response time violation and other important events
Maintenance of the rating of the manager's work, summarizing employee performance assessment
Complete statistics on every system parameter, including time spent
Comprehensive online assistance
System settings:
Ability to change the external part, internal management system and e-mail notification design
Creating as many personal registration fields per user as are necessary for the company
Creating any number of sections and subjects
Setting valid task response time depending on the section
Employee grouping
Access rights for different sections based on group membership
Designating employees or groups as managers, administrators, supervisors, operators, or section end users
Multiple language support, the possibility to add new language without reinstalling the system
Centralized administration with automatic version upgrade