iMacros Scripting Edition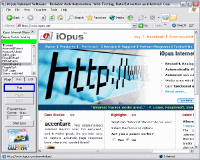 The Scripting Edition of Internet Macros is THE solution for professional web automation, web site testing and data extraction.

iMacros SCRIPTING EDITION successfully competes with website testing software priced more than US$ 30,000 for only a fraction of the cost. In addition, the Scripting Edition allows you to interface iMacros with the well-documented Windows Scripting Host (included in Windows), Visual Basic or any other Windows programming language. This is a crucial feature for fully automating any given task and is missing often in much more expensive software.

The Scripting Edition also includes the Internet Macros PLAYER license. The player license key allows you to ship macros, scripts and programs based on Internet Macros along with a copy of the Internet Macros Player itself to your users at no additional costs.



Software Information
System Requirements
Version:
6.00

Windows Vista,XP,2003,2000
128MB of RAM
Up to 5 MB of available hard-disk space

File Size:
2.98 MB
License:
Free to try, $499.00 to buy
Screenshot :
View Screenshot
Rating :
iMacros Scripting Edition Available Features:
Internet Explorer Plug-In
iMacros Web Browser
Unlimited iMacros Players & Redistributable Component.
Record & Replay web browsing
Fill forms
Download files & Save web pages
Print web pages
Strong 256-bit password encryption
Macro Loops
Popup Manager
Edit macro files
Macro Maximum Size Unlimited
Automate Java and Flash-based websites
Image Recognition PlugIn
Use variables
Merge data with macros
Schedule runs via Task Scheduler
Command line interface
Batch file support
Run in Background (Tray)
Website response time measurements
Scripting Interface (ActiveX Component)
Windows Scripting Host Support
Microsoft Visual Basic / Visual C++ Support
Microsoft .NET Support (VB.NET, C#, J#)
Use with any programming or scripting language
Run via Windows Service
Read data from text files
Connect to database (e.g. Access)
Read / Write XML files
Extract web page data
Save data as Excel compatible comma-separated (CSV) text file
Return data to script for further processing
Royalty-free iMacros Player