iDumpPro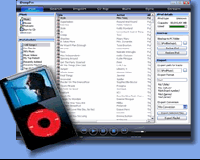 Have you ever wanted to free your iPod from iTunes? Have you ever wanted to take your iPod to your friends house and plug it into their PC and share your music collections? If the answer is Yes, then iDumpPro is the product for you.
With the limitations of iTunes, we have created iDumpPro. This software can be used with or without iTunes.
Based on the award winning iDump which has been featured in magazines all over the world, iDumpPro is the next level in utility for your iPod.
Supported iPods Full import/export support for all iPods expect iTouch and iPhone. Cover flow support for new 2007 Nano 3g and Classic iPods. When Ripping CD's, iDumpPro will try and get the Album cover from the Internet and put it on the iPod.
Software Information
System Requirements
Version:
V3.0.2.1

Windows 8/7/Vista/XP/2000;
Pentium II CPU
256 MB RAM

License:
Free to try, $24.95 to buy
File Size:
11.7 MB
Screenshot :
View Screenshot
Rating :
Key Features of iDumpPro:
Built in Media centre
listen to all songs or playlists in sequence or random order.
Backup and restore
so you can make a full backup of your iPod and all music files. When the backup completes, you can in future either restore using iDumpPro or by using a special restore program which is saved with the backup file.
Exporting songs
Unlike most iPod export programs on the net, you can use iDumpPro to convert the exporting songs in to different music formats and even export the same format but change its bitrate to make songs smaller. All you do is set the path you want the files to be exported to, the format of the files and folder structure if required and then the export conversion which can be either "No conversion","MP3", "AAC","OGG","WMA" and "WAV"
Importing Songs
iDumpPro supports the ability to import music from the PC to the iPod and updates the iPod database with the new tracks. It can import iPod compatible file types.
Search
Search you iPod song collection by song, artist, album and genre.
Playlists
Create new playlists for your iPod including podcast types.
Rip CD
iDumpPro will allow you to Rip a CD, obtaining tracks from FreeDB.org and then importing the album to the iPod in either MP3 or AAC format.
Burn music CD's
Use iDumpPro to create MP3 or standard music CD's by using a simple drag and drop process.
iTunes Sync
iDumpPro will try and determine if songs on your iPod are missing from iTunes on the PC and allow a sync process synchronize both iPod and iTunes.
Stream server
iDumpPro can be used as a streaming MP3 server. Just drag and drop songs, arrange their play order and then start the service. Any media streaming client (Windows Media player) or our own free client can receive the music stream. This allows you to leave your iPod connected to a laptop or PC and then using a client or other hardware, can listen to your music. You could even have it running on the internet and make your own radio show.
RELATED SOFTWARE DOWNLOADS FOR IDUMPPRO