icWord for Mac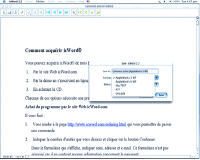 Do you have trouble viewing Microsoft Word, Microsoft PowerPoint, Appleworks and ClarisWorks files?
Are you constantly frustrated by email attachments that cannot be opened?
Don't spend hundreds of dollars on expensive software or upgrade. . .
Just have a look at icWord today!
With icWord you can: View Microsoft Word, PowerPoint, AppleWorks or ClarisWorks files with their original formatting intact. Instantly view downloaded documents from the Internet Easily "save as" a file or "copy/paste" a selection so that you can work within your favorite application No more retyping of faxed documents just to recreate a workable text file! Enjoy Full Tiger Support (from Mac OS 7.1 and up to Mac OS X version 10.4).
. . . ALL WITHOUT PURCHASING ANY MICROSOFT® WORD, POWERPOINT OR APPLEWORKS SOFTWARE. Only $19.95 buys you access to Word, PowerPoint, AppleWorks and ClarisWorks files.




Software Information
System Requirements
Version:
4.0X

works on Mac OS X version 10.2 to 10.5.
8MB free RAM
20 MB Free Hard Disk Space

License:
Free to try, $19.95 to buy
File Size:
2.96 MB
Rating:


icWord for Mac Features:

icWord enables you to work with Microsoft® Word, Microsoft® PowerPoint, NisusWriter and AppleWorks files created on both PCs and Macs - without the original application! icWord(r) enables Macintosh users to open, view, print and convert Word, PowerPoint or AppleWorks files. icWord® works with systems Mac OS 7.1 through Mac OS X version 10.4.

Easy WYSIWYG (what you see is what you get) functionality lets you see the original formatting, including:
Font size and style
Paragraph - margins, alignment, line spacing, numbering
Tabs
Tables
Headers and Footers
Page attributes
Graphics
Colors
Footnotes - added as numbered endnotes after the text body
Dynamic viewing lets you:
Scale from 25% to 400%
Search for words in text
Copy and drag text to other applications
Navigate with Jumpmarks
Customize font matching
Turn warnings on/off
Listen to files
Open all these formats:
WordprocessingML (XML format from Word 2003)
Microsoft® Word 2004 (Mac)
Microsoft® Word 2001 (Mac)
Microsoft® Word 98 (Mac)
Microsoft® Word 5.1 (Mac)*
Microsoft® Word 5.0 (Mac)*
Microsoft® Word 4.0 (Mac)*
Microsoft® Word created text files (any version)
Microsoft® PowerPoint**
Unicode text files
AppleWorks 5 (or ClarisWorks 5)
AppleWorks 6
RTF
NisusWriter (versions 3.1 to 6.5)
Convert to:
AppleWorks 5
AppleWorks 6
Text and Unicode
RTF
NisusWriter (versions 3.1 to 6.5)
RELATED SOFTWARE DOWNLOADS FOR ICWORD FOR MAC