Guitar Sidekick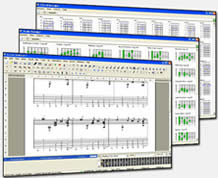 Guitar Sidekick is a piece of software designed to make life easier in every way for guitarists. It contains tools and features that enable the guitarist to easily practise and perfect their skills, write music, manage correspondence and learn songs.

Its features include a multi-track music composer / player with advanced editing features, drum machine, metronome, chords manager, scale manager, guitar tuner, band manager, guitar lessons, pitch perfector, knowledge trainer, music glossary, music generator, and music paper generator. Listed in this document are the features of each tool and where applicable the improvements that have been made to that tool since the last release of Guitar Sidekick. Guitar Sidekick is the all-in-one program for guitarists!


Software Information
System Requirements
Version:
4.13

Windows 98/ME/NT/2000/XP
Pentium II CPU
64 MB RAM

File Size:
4.11 MB
License:
Free to try, $29.95 to buy
Screenshot:
View Screenshot
Rating :
Music Composer Features :
Write your own music in tablature or standard notation
Music generator for generating backing chords, random solo pieces or basslines!
Save tab as normal file, Wave file, MIDI file, Bitmap file, ASCII TAB file, Web page, PDF
Files automatically compressed on saving
One-Click website import from Internet Explorer
Built in FTP File Upload Tool
Undo (up to 20 levels)
Coda/Sign/D.S. Al Coda/To Coda support
Chord diagrams can be added to tab and optionally played
Import ASCII TAB files, MIDI files, Text from the clipboard, Websites from the internet, or previous Guitar Sidekick files
Print and Print Preview
WYSIWYG view of document
Changeable paper sizes and print options
Virtual Fretboard and Piano tools for inputting music with ease
Customizable toolbars
Frets 0-29 and dead notes supported
Write percussion tracks with proper drum tab and notation
Variable note dynamics
Ghost Note, Let Ring, Accentuate, Various Harmonics, Staccato, Tremolo Picking, Various Slides, Hammer on / Pull off, Trill, Customizable Bends, Grace Notes
Link Notes
Customizable left and right hand fingering
Adjustable chord length with x-tuplets
Dotted notes supported
Add text to chords
Vibrato, Wide Vibrato, Palm Mute, Tap, Slap, Pop, Fade In, Tremolo Bar
Stroke Types Supported
Cut, Copy and Paste bars
Variable Time and Key signatures (each bar on each track can have a different key signature)
Repeats (up to 128 times)
New 'Go to' points system for easy file navigation
Tracks can have bass staves, treble staves, and tab (or any combination of these)
Tracks can have octave shifts
Tracks can have any tuning and 4 - 7 strings
Tracks can have any instrument at any volume and lyrics
New batch operations save lots of time on repetitive tasks
'Check bar' tool for making sure bars are in correct time
'Fix bar' tool for forcing bars to be in correct time
'Transpose' tool for changing notes by a number of semitones
Playback from any point in the file with optional metronome and count in
Speed trainer for learning fast parts gradually
Websites menu for fast access to your favorite sites
Sample music included with the program
Tutorial Included
Drum Machine Features :
Drumbeat generator makes up drumbeats for you!
Instantly convert your drumbeats into percussion notation and vice versa.
Write a drumbeat with up to 32000 notes and 128 tracks
Print beats
Export beats to MIDI File
Batch Import function for quick conversion of GS 3.5, 3.6 or 3.7 Drumbeats
Sample beats included with the program
Resizable window
More attractive interface
Cut, copy and paste
Variable time signatures
Eraser Mode for fast editing
Realtime beat editing
Tracked Playback
Beat lengths can be set
Tutorial Included
Metronome Features :
Vastly improved interface
Entirely programmable
Up to 10000 beat sections per file
Cut, copy and paste
Insertion, addition, and removal of beat sections
Beats now saved as files
Supports all time signatures
Options saved with files
Tutorial Included
Chords Manager Features
Resizable window
More attractive and comprehensive interface
Easier to use and understand (no more chord types or generators)
All chords saved as files (easy to share with friends)
Chords can have 4, 5, 6, or 7 strings
Chords can have different tunings
Barre chords supported
New chord search facility for finding chords fast (by name, complete or partial tab, or string number)
Left handed view supported
More help
Customizable display modes (notation, tab or chord chart)
Batch operations feature for deleting or printing lots of chords at once
Nearly 400 chords included with the program
Guitar Lessons Features
Window can be resized
Lessons separated into 5 difficulty categories
Easier to use interface
Guitar Tuner Features
Simplified and more organised GUI
Advanced adjustable playback options
4 - 7 strings supported
22 sample tunings included with the program
Band Manager Features
Save details of gigs and band members
Save any number of band members
Improved interface
The program will automatically remind you of gigs
Scale Manager Features
Resizable window
More comprehensive and attractive interface
Easier to use and understand (no more scale type definitions or generators)
Scales are saved as files (easy to send to friends)
4 - 7 strings supported
Scales can all have different tunings
New scale search facility for finding scales fast
Left handed view supported
More help
Customizable display modes (standard notation, tab or chart)
Batch operations feature for printing or deleting lots of scales at once
New playback mode allows you to practise skills by slowly increasing the speed
New! - Fretboard Knowledge Trainer Features
Guitar Sidekick's Fretboard Knowledge Trainer will help you to memorize the notes on the Fretboard. The program will keep track of how you're doing, and adjust the difficulty accordingly.
New! - Pitch Perfector Features
Guitar Sidekick's Pitch Perfector will help you to develop perfect pitch. The program will keep track of how you're doing, and adjust the difficulty accordingly.
New! - Music Paper Generator Features
Guitar Sidekick's Music Paper Generator will print any number of pages of blank music paper, with any combination of treble, bass, and tablature staves.
New! - Music Generator Features
Guitar Sidekick's Music Generator will generate backing chord music for you to jam over, or to base songs around.
New! - Music Glossary Features!
Guitar Sidekick's Music Glossary contains a comprehensive list of all that confusing music-speak! Learn the lingo of the pro's!