GrindEQ Word-to-LaTeX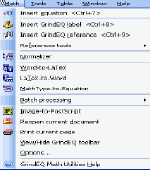 This module converts Microsoft Word documents to LaTeX, AMS-LaTeX, Plain TeX, or AMS-TeX format. Microsoft Equation 2012, Microsoft Equation 3.x, and MathType are supported. Works with Microsoft Word 97/2000/XP/2003/2012 and Windows 98/Me/NT/2000/XP/2003/x64/Vista.
Word-to-LaTeX in 4 steps : 1. Open your document (*.doc, *.docx, *.rtf, etc.) in Microsoft Word; 2. Save it as 'LaTeX' using standard Save As menu; 3. Close Microsoft Word; 4. Open the converted LaTeX document in your favorite editor.
GrindEQ Math Utilities also include modules:
Normalizer
LaTeX-to-Word
MathType-to-Equation





Software Information
System Requirements
Version:
New

Windows 7/Vista/XP/2003/2000;
Pentium II CPU
256 MB RAM

License:
Free to try, $129.00 to buy
File Size:
6.2 MB
Screenshot :
View Screenshot
Rating :
Key features:
Exporting equations (Microsoft Equation 2012, Microsoft Equation 3.x, or MathType) in editable form;
Exporting images in PS/EPS format;
Exporting tables, lists, headers/footers, cross-references, etc.;
Support for ANSI, OEM, MAC, Unicode, or UTF-8 encoding in LaTeX files;
Converting a whole Microsoft Word document or a selected part;
Support for batch processing;
Multi-language interface;
Windows Vista and Microsoft Word 2012 compatible.
Notes:
By default, Microsoft Equation and MathType are exported in editable form as LaTeX math expressions. It is also a possibility to obtain an image from equations (for example, in web publication).
You can choose to convert any elements you want: equations, images, tables, paragraph/symbol formats, etc.
Convert manual cross-referencing in your Word document to GrindEQ automatic cross-referencing. This will improve the quality of your Word document and the converted LaTeX document as well.
LaTeX with AMS symbols is used by default, because this is the most usable format for now. However, you can choose other formats (LaTeX-2e, AMS-TeX, or Plain TeX) as well.
ANSI encoding for LaTeX document is used by default, but you can choose OEM (DOS), MAC (Mac OS), Unicode (UTF-16LE or UTF-16BE), or UTF-8 as well.
Some of our customers report of successful launches under Linux+Wine, but GrindEQ does not provide technical support for Linux.
RELATED SOFTWARE DOWNLOADS FOR GRINDEQ WORD-TO-LATEX