GdPicture Pro OCX - Image Processing ActiveX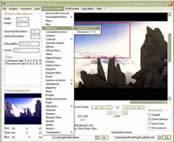 GdPicture Pro Image OCX is a low cost image processing ActiveX components to view, create, print, edit, and compose bitmap image. They can display, read, convert, and write image in a large variety of formats like tiff, fax, gif, jpeg, png, wmf, emf, bmp, ico, dib, exif, animated gif, mutipage tif, pdf....

With GdPicture you can add images-rich features to your applications quickly and easily like image processing functions, color conversion, image compression, image display, print, effect, merge....

Major functions include flip, rotate, resize and zoom the image, fully control the scroll action, draw text and image, get tiff tags and Exif information, append, delete, insert, move and swap pages within existing multipage Tiff image...




Software Information
System Requirements
Version:
2.9

Win 98, NT4, ME, 2000, XP, 2003, Vista
Pentium II CPU
64 MB RAM

File Size:
14.7 MB
License:
Free to try, $ 95.00 to buy
Screenshot:
View Screenshot
Rating :

Main Features of GdPicture Pro OCX :

Gdpicture Pro ActiveX includes 2 classes:
Image processing class cGdPicture :


ActiveX library ( .ocx ) containing over 300 functions
Advanced imaging processing
Multipage Tiff reading and writing
Support lzw, ccitt3, ccitt4, rle and Jpeg compression
Support for 1bit, 4bits, 8bits, 16bits, 24bits, 32bits, 48bits and 64bits pallets color
Image enhancement functions
Import / Export image from clipboard
TWAIN scanning with Automatic Document Feeder control (ADF)
Pallets colors conversion
Read and Write stream data
Auto Border removal
Cropping
Advanced rotations
Watermark
Advanced Text processing
Make Thumbnails
Skew and de-skew image
Obtain specific color components of an image
Read EXIF Tags
Print image
Merging Images
Resizing with 8 diferent interpolation modes
Drawing lines, ellips, round, rectangle, bezier, curve...
Change brightness, saturation, contrast, gamma
Lot of filters and effects(emboss, blur, edge enhance, engrave...)
Personalized filters with black and white images
Area processing
Capture the contents of any window or section of any window
Color anti-aliasing and smoothing for zoomed images
Zoom enhance
HSL, RGB and ARGB color management
PDF Write (image, shapes, text)


Image viewer class GdViewer (visual class) :


Image viewer (very high quality viewer class with many differents view modes)
Multipage Tiff reading, you can change page easly
Multiple image scaling algorithms (Antialiasing, Bicubic and NearestNeighbor Interpolation ...)
Support lzw, ccitt3, ccitt4, rle and Jpeg compression
Support for 1bit, 4bits, 8bits, 16bits, 24bits, 32bits, 48bits and 64bits pallets color
Import image from clipboard
Advanced rotations 90, 180, 270, 360, Flip X, Flip Y
Flexible printing features
Area processing
User define display area
Animated Gif Viewer
Built in timer with TimerTick event
Advanced scrollbar and autosize features
Aspect Ratio Control
Right click pop up menu, including tools, selection, zoom... *
Built in tools including hand tool, pan and zoom, rectangle selection
Move the image manualy with move hand cursor
Zoom enhance, zoom by height, by width, fit to page...
User define Zoom and user define area zoom
Keyboard and Mouse Events
PDF Viewer (need an IsedQuickPDF License)**


Supported image file formats:


BMP, DIB, ICO (standard Windows Bitmap file format).
EMF (Enhanced Windows Metafile format).
GIF (Graphics Interchange file Format).
JPEG, JPG (Joint Photographic Expert Group file format).
PNG (Portable Network Graphics file format).
TIFF, TIF (Tagged-Image File Format).
WMF (standard Windows Metafile format).


Supported TIFF file compressions:


CCITT Group 3 fax encoding.
CCITT Group 4 fax encoding.
CCITT Modified Huffman RLE.
JPEG DCT Compression.
LZW compression.
Packbits - Macintosh RLE compression.
RELATED SOFTWARE DOWNLOADS FOR GDPICTURE PRO OCX - IMAGE PROCESSING ACTIVEX