GadgetTrak Laptop for Mac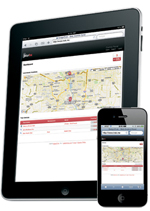 GadgetTrak Laptop is the most advanced Laptop theft-recovery application available for Mac OS X. It designed to assist in the recovery of your computer in the event of theft or loss. The software utilizes advanced Wi-Fi positioning technology to locate the device within 10-30 meters. It even captures images using the built in camera and sends it directly to your email!
Mobile computing has changed the way we work, play and communicate. Think about the things you have on your laptop right now: Countless photos, financial records, tons of music. Even the hefty price tag on your laptop is probably dwarfed by the value of the information on it.
Ready for the really scary part?
The FBI estimates that 10% of all laptops purchased in the US will be stolen within the first year of ownership. Of those, only 3% will be recovered!
GadgetTrak to the rescue.
Using patented location-detection technology, GadgetTrak evens the odds of recovery by pinpointing the location of your laptop, who has it, even what they're wearing!
Track On-the-Go
Since the GadgetTrak Console is web-based, you can track your devices on your iPad, iPhone, iPod touch, BlackBerry or Android — anything with a web browser!




Software Information
System Requirements
Version:
New

Mac OS X 10.5 Leopard or higher (including Snow Leopard)
A functioning webcam is needed to take the photos.

License:
Free to try, $34.95 to buy
Download Size:
6.00 MB
Screenshot :
View Screenshot
Rating :
Key Features & Benefits:
Wi-Fi positioning
By using advanced Wi-Fi positioning technology, GadgetTrak can pinpoint the location of your laptop, usually down to within a few meters!
Location notification
When tracking occurs, you'll get an email with detailed information about its current location. You can also see this on the web control panel at www.trak.me .
Webcam support
Part of the tracking process is to snap a photo of the thief. This is a crucial bit of evidence that the police can use to get your laptop back.
RELATED SOFTWARE DOWNLOADS FOR GadgetTrak Laptop for Mac