FLV Spider Pro for Mac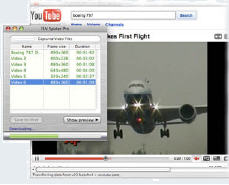 FLV Spider Pro for Mac will automatically capture all online Flash videos, opened in your web browser, and save them to local drive and iPod then will show them in a sortable list.
You can assign a meanigful title for each captured video, e.g. you can drag & drop video title from the web page. Video downloading process is reflected in the FLV Spider's status bar, so you may even open several web pages with online videos simultaneously, if your Internet channel allows you to do it. All completely downloaded videos are emphasized by color.
Online Flash videos have format, incompatible with iPod. Using FLV Spider Pro for Mac it's easy to save any captured Flash video to your iPod. Just click "Save to iPod" button and the video will be converted into iPod-compatible format and will be automatically added to your iTunes library. All you need to do now is to attach your iPod to your Mac and synchronize it with your iTunes library.
FLV Spider Pro for Mac has associated tool - Flash Video Player, which can play FLV videos, saved to your local drive, as easily as to click them in Finder or on desktop.
Software Information
System Requirements
Version:
3.1.20

Mac OS X 10.4 - 10.8 or Higher
512 MB RAM or More

File Size:
8.81 MB
License:
Free to try, $29.95 to buy
Rating :
Main Features of FLV Spider Pro for Mac:
Capturing online videos
FLVSpider is very simple in use. Just run FLVSpider application. Then run your favourite web browser and open a web site, containing online videos. FLVSpider will work with any web site, where online videos are delivered through HTTP protocol. We'll use YouTube.com for examples in this manual.
Editing video titles
All captured videos in the list have some generic default names like "Video 1", "Video 2", etc. It is very easy to change default generic video titles to some values, reflecting video contents. Just select a video title, shown above the web player, then drag it into FLVSpider video list and drop it into the leftmost column of an item, whose title you'd like to edit. Usually it is the focused item. This process is illustrated by screenshot.
Saving videos to your Mac
It is very easy to save captured video file into FLV (Flash Video) file format. Just drag & drop selected video list item to desktop or into a Finder window. You can see appropriate screen here.
Saving videos to your iPod
Online videos have incompatible with iPod format. FLVSpider lets you easily save captured video to your iPod. Just press "Save to iPod" button, which is active for completed videos only. You'll see Video Encoder popup window with a progress indicator, reflecting video format conversion process. Processing time usually varies from 30 sec to few minutes and depends on video file duration and video frame size. You can control video conversion speed by changing video encoding quality. Look at FLVSpider Preferences description below for more information.
FLV Spider Preferences dialog
Preferences panel lets you easily adjust some important parameters of the software. In particular you can choose, where to store saved videos, how FLV Spider window will look, enable some automatic actions on video saving and on program termination. You can see the Preferences panel here.
Credits
FLV Spider software internally uses FFMPEG Software, distributed under GPL 2.0. You can find FFMPEG source code version, used to build FFMPEG executable module for FLV Spider and FLV Spider Pro software.
RELATED SOFTWARE DOWNLOADS FOR FLV SPIDER PRO FOR MAC