eTrust EZ Antivirus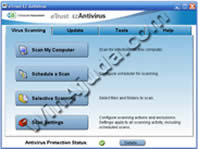 eTrust EZ Antivirus is an award-winning antivirus solution that provides complete protection, detection and elimination of thousands of computer viruses, worms and Trojan horse programs for home and home office PCs. The easy-to-use interface and frequent automatic updates make it effortless to stay protected, and the small installation file does not strain PC system resources.

eTrust EZ Antivirus is ICSA-certified to detect 100% of viruses in-the-wild. This software is supported by the CA Security Advisory Team, providing worldwide 24x7 research labs to ensure protection from the latest threats. eTrust EZ Antivirus leverages the same technology CA has developed for the worlds most demanding corporate users, including over 95% of the Fortune 500..

eTrust EZ Antivirus offers simple-to-use yet powerful features like: automatic daily virus signature file updates to easily and effectively address the main cause of virus attacks out of date signature files; automatic email scanning and archive scanning; scheduled scanning to allow you to scan for viruses at times most convenient for you; real-time scanning to automatically detect and remove viruses from any file you access; heuristic scanning to find viruses even before they appear on the latest virus signature file updates; and interactive virus detection messages with links to the CA Virus Information Center, providing you with detailed information on viruses that have been detected on your PC.

eTrust Antivirus software has been designed to allow for quick download and installation, fast updates, and low usage of PC system resources, while providing seamless compatibility with other applications.


Software Information
System Requirements
Version:
8.40

Disk Space 7 MB
Windows 95/98/ME at least 32 MB RAM
Windows NT at least 64 MB RAM
Windows 2000 and XP at least 128 MB RAM

License:
Free to try, $26.95 to buy
Screenshot:
View Screenshot
Rating :
Key Features:
Up to $1,500 Protection Against Damage caused by Computer Viruses*. If your PC fails due to a virus infection after CA Anti-Virus is properly installed, you can receive up to $1,500 in technical service and hardware replacement. Program administered by Warranty Corporation of America (WaCA), a full service administration company. Only available to US residents. Click here for complete details.
Secure Now provides proactive protection by monitoring critical program functions and settings, and reminding you to keep your security at an optimal level.
Quick Tips provide you with helpful, at-your-fingertips answers to commonly asked questions, easing the burden of searching the Help file or contacting Support for assistance.
Threat Outbreak Warning System provides real-time content feeds from the CA Security Advisor, giving you detailed, up-to-the-minute information on the most recent and most prevalent virus threats.
Complete Home Protection. CA Anti-Virus 2007 protects up to three PCs with a single subscription. You no longer need to buy three separate subscriptions to protect your household PC's.
Improved! User Interface offers simplicity and superior ease-of-use, helping you quickly and easily set preferences, check program status, and maintain a secure PC.
Daily, Fully Automatic Updates easily and effectively address the #1 reason PC users suffer attacks: out-of-date signature files.
Continuous Protection to keep your computer protected from the latest internet risks by automatically renewing your subscription at the then current renewal price (plus applicable tax), so you don't have to. For more information, click here.
Low System Overhead with a total install of only 25 MB and low usage of system resources, CA Anti-Virus installs quickly, saves hard drive space, and scans efficiently.
Certified by Independent Testing Organizations including ICSA Labs and West Coast Labs, and certified by Virus Bulletin to detect 100% of viruses "in the wild".
Automatic Email Scanning protects against viruses that arrive via email, before they can cause damage.
Scheduled and On-Demand Scanning allow you to run a virus scan at any time, or schedule scans at pre-selected intervals to meet your needs.
Real-time Scanning proactively stops viruses by scanning files when they are opened, closed or saved to your PC.
Advanced Heuristic Scanning detects new threats even before computer virus protection updates are created.
Interactive Virus Detection Messages provide links to helpful virus removal resources in the CA Virus Information Center when threats are detected.
File Quarantine removes threats from their current location to a secure quarantine area to allow you to further review the file.
File Exclusion List allows you to exclude specific files and folders from virus scans.
Archive Scanning allows you to scan compressed files in a variety of formats.
Supported by the CA Security Advisory Team our worldwide research labs work 24 x 7 to detect computer virus threats before they can damage your PC, ensuring protection from the latest threats.