e-Surveiller
The De Facto Standard in Internet Monitoring and Surveillance Software

e-Surveiller includes: Remote Screen Viewing, Chat/IM Recording, Keystroke Recording, Application Monitoring, File & Folder Monitoring, System Monitoring, Multi-User Monitoring.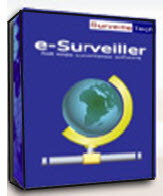 e-Surveiller is the world's most powerful user-activity monitoring, logging and management software package, With it, you can monitor the activities of computer users on standalone computers, on a local area network and on remote computers across the Internet. - in your home or in your office. In use in homes, offices, schools, libraries and even banks, e-Surveiller records both incoming and outgoing chats, instant messages, web sites visits, keystrokes typed, programs launched, files, documents and folders created, deleted, modified etc. -- plus, e-Surveiller empowers you to watch the screen of a remotely monitored computer in real time, as if, you were right in front of the computer. All recording and monitoring operations take place at the same time, secretly transfering the log reports to you.

Multi-purpose User-Activity Monitoring and Surveillance
Combine Remote screen viewing, Chat/IM Recording, Web Site Recording, Keystroke Recording, File and Folder monitoring with a surveillance system that can monitor a single PC, a network and remote computers and you have the better computer surveillance software you can buy !




Software Information
System Requirements
Version:
2.3

Windows 8/7/XP/2000
15 MB free disk space
512 MB RAM or More

File Size:
3.87 MB
License:
Free to try, $34.95 to buy
Screenshot:
View Screenshot
Rating :
e-Surveiller Application Features:
Surveillance and Monitoring:

Remote Surveillance: Monitor computers on a LAN (home or office network), across the Internet or on a single/offline PC.
User-Activity Monitoring: Monitors and logs all keystrokes along with the window in which they were typed, logs window titles of applications opened, file and folder changes, chat conversations, system activities such as shutdown, startup, logon, etc. with time and date stamps.
Screen Viewing: With e-Surveiller, you can watch the monitored user's desktop LIVE as he/she is using the monitored computer.
Log Transfer: Monitors can post log reports to you via email or FTP.
Wide Compatibility Range: Monitors install and run on ALL versions of Windows (95,98,ME,NT4,2000 and XP.)
Scalable Operation: Monitoring programs are generated and can have unique instructions for different computers.
e-Surveiller can effectively monitor a single computer to several computers from several locations -- even across the Internet!
Very Inconspicuous:
Monitors will not slow down the monitored computer even when engaged in a screen viewing session.
Quiet installation option available for silent monitor installations.
Automatically starts when computer starts up.
Super stealth-monitoring operation.
Easy Installation unto target computer.


Comprehensive Log Report Viewing


Log Viewer: Catalogs and displays user-activity logs by the users/computers that generated them.
Time/Date Stamp: Time in logs is displayed in GMT or in your local time settings
URL Recognition: The log viewer highlights internet addresses in the displayed logs. clicking the address visits the address.
Verbose/Analysed Views: log reports can be displayed exactly in the way they were logged or in an analysed form which considers text formatting and displays logs in a more readable form.
Summary View: Log reports can be viewed in different content categories -- windows, chats, file and folders modified. etc.
Filter logs by date range


Mobility

3rd-Party Network Connection: Monitors do not need to email their IP addresses nor know your IP address, they find your computer through 3rd party IRC and Gnutella networks and automatically connect to your computer, which makes it perfect for mobile use, for example monitoring from your laptop computer.
Log Delivery: Have all recorded activity emailed, FTPed or transferred to you at preset time intervals.
Hot Phrase: Set a keyword which when typed on the monitored computer will prompt you for a folder to save user-activity logs.
Monitoring Programs fits into a diskette.


Security

Super-Stealth Operation: Monitors are virtually undetectable to the monitored user.
Password Protection: Unauthorized users can not use the e-Surveiller station and log viewer.
Per-User encryption: e-Surveiller logs and screen viewing sessions are encrypted with a unique key for each registered user so that even if logs or screen viewing sessions get into the wrong hands, they can not be viewed.


Easy to use!

Intuitive Interface: Easy to use, graphical user interface, with intuitive labeled buttons and icons!
Easy Monitor Generation wizard: Generate a monitor easily with the Generate new monitor wizard.
Comprehensive Help: Built in help file and online user guides will guide you through any aspect of e-Surveiller.
e-Surveiller Monitoring Features
Remote Screen Viewing

You can watch the screen of any computer you are monitoring, all from a central computer. This works as if you had a surveillance camera pointed directly at each computer monitor, capturing anything anybody does online, and transmitted LIVE to your computer for you to watch.

e-Surveiller lists the current application all monitored users are using in the e-Surveiller Station interface. Simply double-click a user and a projection of the remote screen appears, very much like a surveillance camera.

That means you can watch any chat conversations, instant messages, emails typed and read, all web sites visited, all programs run, all keystrokes typed – everything they do on the computer and on the Internet, anytime you want to.



Would you like to check what your employees are doing anytime while at work? e-Surveiller will show you what application they are currently using. Double click the user and see EXACTLY what they are typing or reading or viewing, from your own computer.

Are you bothered about your child's internet activities? Is your child having secret chat conversations with an adult stranger? With e-Surveiller, you can watch your child's computer even while you are at work. e-Surveiller will connect your child's computer so that you can watch him or her.

Does your spouse engage in cyber sex while you are or view pornography online while you are asleep or not around, e-Surveiller will let you watch, LIVE, every web site your spouse visits, every picture viewed, every chat room visited, even when you are not in the house.

Would you like to check your students' screens in the library or classroom to make sure they are doing what they were instructed to do. e-Surveiller makes it easy to monitor and watch computer users' activity in a networked library or class, from a central computer.



Chat and Instant Message Recording

e-Surveiller records chat conversations and instant messages are automatically recorded and saved for your later review. You simply click on the Chat/IM tab in the Log Viewer, and you will see who they were talking with, when, duration and which chat rooms were visited.

e-Surveiller captures popular chat and instant messaging programs and provides you with a clear record of all conversations that have taken place. Both sides of chat conversations and instant messages are gathered and saved chronologically for your review.

e-Surveiller is designed to record both sides of a conversation in AOL chat rooms, AOL Instant Messenger, MSN Messenger, ICQ and Yahoo Messenger


Keystroke Recording

e-Surveiller features the most powerful key logger available -- saving keystrokes and mouse clicks along with the window in which they were typed.

With e-Surveiller, you will know what was typed, where it was typed, and you will also know Who typed it because e-Surveiller records who is logged into the computer. e-Surveiller will document all mouse clicks and every key typed on the PC keyboard. e-Surveiller not only captures standard alphanumeric keystrokes, but also records passive characters and keystroke combinations, such as the Shift and Ctrl key, records special keys such as multimedia keys as well as other hidden characters which may other-wise appear differently on screen (such as an * when a password is typed).

e-Surveiller Log Viewer's analysed view constructs and displays entire write-ups from keystrokes, taking note of editing keys such as the backspace and delete keys, mouse clicks as well as navigation keys such as the arrow keys.


Application Monitoring

e-Surveiller provides the ability to record every application (or program) and application window opened on the computer you are monitoring. For each application window, e-Surveiller will capture the name of the person who used the program.

This feature allows you to see at a glance ALL of the applications that have been used each day. If someone downloads a new program that starts affecting the performance of your computer or network, you'll be able to quickly see the new program in e-Surveiller.

Also e-Surveiller highlights web addresses and urls visited by all Internet browsers and other software.


File and Folder Monitoring

e-Surveiller watches files and folder changes within common document folders so that you can monitor changes and documents. In addition to the common document folders, you can specify other folders to watch.

Is there a secret document being prepared on the computer? e-Surveiller will inform you about it.

Is there a particular folder you want to monitor for changes? include it, and e-Surveiller will see a list of files and documents created, renamed, deleted, etc.


System Monitoring

e-Surveiller monitors system events and displays system information such as the computer name, keyboard language and layout, mouse handedness, windows startup and shutdown times as well as changes in system configuration.
This information provides a better understanding of other logged information such as keystrokes.

Do you need to know when a computer starts up or is shut down?

This feature, provides at a glance, information needed by system and network administrators who need to know the startup and shutdown times of computers in the office.


Multi-User Monitoring

Record the activities of ALL users on a single computer or on computers on your home or office network. e-Surveiller lets you view all activities performed by a specific computer user or all activities performed by all users on a computer.

e-Surveiller identifies the windows user Login IDs right next to monitored content withing log reports. You can monitor and watch ANY user, ANYWHERE on your network, ANYTIME of the day or week.
RELATED SOFTWARE DOWNLOADS FOR E-SURVEILLER