Estimator - cost estimation software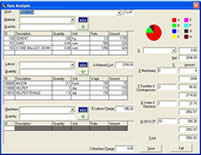 Estimator is a Civil Engineering Cost Estimation and Rate Analysis software for Architects, Builders, Contractors, Engineers, etc. With Estimator 2.0 you can prepare various estimates and rate analysis of residential and commercial buildings. You can also prepare Detailed Estimate, Abstract Estimate, Tenders, Measurement Book, Cost Abstract, Labour and Contractor's Bill, Purchase Order and other site management documents.

Estimator is available for the Windows operating environments. This is a fast moving software with low cost and high performance. Comparing to all other software's in this industry this is very user friendly and accurate which helps to get the confidence of engineers in construction field. This software reduces the estimating and project management in to more than 90% and gives more compact and actual costs which helps the builders to manage each project with a perfect financial control.


Software Information
System Requirements
Version:
2.0

Windows 98/ME/NT/2000/XP
32 MB RAM
500 MB Free Space

File Size:
37.5 MB
License:
Free to try, $99.95 to buy
Screenshot:
View Screenshot
Rating :
Purpose in brief :
To prepare various estimates of a building.
To issue bill of quantities to contractors for a tender.
To compare various tenders, finalize and issue a work order to a contractor.
To record measurements to prepare contractor running bills.
To generate purchase requests, purchase orders and material receipt notes.
To efficiently manage a project by accurate forecasting, executing, analyzing and controlling the expenditures in the estimated figures.
Features of Estimator
Works

Works with standard specifications, classified into Categories/Sub Heads.
Provision for editing Rates and Specifications for individual Projects.
Provision to change Measurements and Units.
Provision to add new works.

Rate Analysis

Material, labour and machinery requirements for each work and its rates.
Material, labour and machinery rates can be set in a common screen.
Unit wise cost and split up costs can be extracted.
Provision for changing prices and coefficients for individual project

Schedule of Quantities

Detailed Estimate with dimensions of each work in a project.

Abstract Estimates

You can make reports on Actual cost, Market Rate and Confidential rates (3 levels) for each Estimate.
Split up of material, labour and machinery cost.

Bill of Quantities

With detailed specifications and provision for entering rates for quote.

Summary

Item wise summary of estimate without specifications.

Floor Totals

Floor level summary of estimate.

Material Estimates

This gives you the exact idea about the materials needed for each item (work) in a project.
Material wise and item wise report.
Summary report

Labour Estimates

This gives you the exact details of Labour needed for each Item.
Labour wise and item wise report.
Summary report

Project Rate Analysis

Split up of costs into materials, labours, machines, etc.
Unit cost and actual cost based on quantity is arrived.

Schedule of Bars

Structure wise.
Bar wise.
Summary.

Tendering

Tender Creation – You can make tender documents by splitting the estimate into various heads – civil works, electrification, plumping, air conditioning etc. and issue to selected contractors.
Tender Receipts – Provision for entering quoted rates of contractors for comparison, negotiation, adjusting and finalization.
Work Order - Provision for selecting a contractor for a tender and issuing the work order.

Measurement Book

Date wise or weekly measurement for sites entered by site engineers that can be used in bills

Cost Control

Consumption of materials, labour and machinery can be recorded and compared with expected figures.
This helps you to check date wise consumption of material, Labour etc which is very useful for project monitoring.

Cost Abstract

Summery of actual cost. Which can be separated in to total cost,Cost per square meter, Percentage cost and Section wise cost.
Total cost of construction and unit cost can be arrived.

Comparison of Estimates vs. Actual on Material, Labour and Cost

This helps you to check item wise consumption of material, Labour etc. which is very useful for management decisions and Cost control.

Contractor's & Subcontractor's Billing

Measurement wise bills with previous quantities and payments.
Up to date, already billed and balance quantities and payments.

Labour Billing

Additional bills including labour wages etc.

Purchase Request

Material requests from sites by site engineer.

Purchase Order

Compare material requests with estimated quantities and processed for order.

Reception of Materials

Reception of materials on site.

Data Dictionary

Data dictionary is provided for Clients, Contractors, Suppliers,Materials,Labours, Machineries, etc.
Mailing labels can be produced.

Contractor's List

Here we can maintain a list of approved contractors and their up to date item rates or labour rates.

Supplier List

Here we can maintain a list of approved suppliers and their up to date price list.
It is easy to find various suppliers for a material and their details and rates.
Pricing

The cost of Estimator is 99.95 USD($) per licence. The price indicated is excluding the tax & other service charges. Softlogic Innovations Pvt. Ltd has the right to change the pricing without notice. Estimator is also available as an ESD(Electronic Software Distribution).

Service and Warranty

Technical support is offered free through phone and email.
All upgraded releases come to you at a discounted rate. Each software kit Includes the latest version of Estimator™2.0, Estimator™2.0 User Guide, a license agreement, free technical support for one (1) year or 15 support incidents (whichever comes first), notification of new and updated products, low cost minor upgrades, and substantially reduced prices for major upgrades.