Estalo CAD for Palm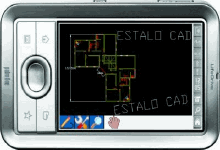 CAD (Computer Aided Design) conquered its space in projects areas in general, but there is a great discomfort in having to take blueprints and drawings printed or plotted for the field.
Estalo CAD for Palm allows the creation and the alteration of projects in the own handheld. Later those projects can be transferred and altered in a computer desktop. Polylines, rectangles, ellipses, layers, texts and notes are some of the entities read by the system. It is compatible with DXF/DWG files until version 2005 (2D) and allows the functionality of a CAD system with the mobility of a handheld. This version is specific for handhelds running Palm OS®.



Software Information
System Requirements
File Size:
7.07 MB

Palm OS® 3.5
8 MB RAM
160x160 screen with 16 grayscales

Version:
2.050
License:
Free to try, $395.00 to buy
Screenshot:
View Screenshot
Rating :

Features:

- Easy handling.

- Interactivity.

- Mobility.

- Creation and edition of notes.

- Processing speed.

- Reading of CAD files compatible with DWG and DXF files until version 2005.

- Layers, lines, polylines, rectangles, arcs, circles, ellipses, ellipse arcs, dimensions and texts are some of the entities read by the system.

- All entities read can be created on the own system.

- Graphic mode edition, directly on screen, or in form of values like on desktop computer systems.

- Zoom in several modes like window, extents, among many others.

- Calculation of dimensions, areas and distance between lines.

- It does not force the use of memory cards.

- Synchronization of projects with a desktop computer.

- Support Languages: English, Spanish and Portuguese.

Instructions: Run the installer on your desktop computer and follow the instructions. After that, perform a synchronization to transfer Estalo CAD for Palm to your handheld.